The synergy between MTS and Reach Australia
In May 2022 the annual Reach Australia National Conference was held on the NSW Central Coast at EV Church. MTS was thrilled to be a sponsor for the event, with almost all of our team also attending the conference to learn from the sessions. Partnerships with organisations like Reach Australia are a huge blessing to the mission of MTS, to multiply gospel workers through ministry apprenticeships. 
Reach Australia combines the strengths of a number of ministries and faithful Christians. They help churches throughout Australia to be healthy, evangelistic and multiplying churches reaching the lost. Their focus on the biblical mission of making disciples of all nations (Matthew 28), is close to the heart of MTS, who are working to raise up more workers for this purpose.
Sponsoring the Reach Australia National Conference
In 2022 MTS sponsored the Reach Australia National Conference! This allowed MTS to engage other delegates in the work and mission of MTS in a public way, while also supporting the work of Reach Australia and their conference. 
As a part of the sponsorship, MTS also distributed our vision for the future of the ministry 'Towards 2026' as a booklet for all conference participants. One of our MTS Champions, Kirk Zylstra from Christ Central Presbyterian, was so inspired by receiving this booklet he asked to be sent multiple copies for their upcoming MTS supporters night. What a blessing that through the work of Reach Australia and MTS passionate Christians are being brought together and mobilised for the work of the Gospel in this way!
Connecting with other MTS partners
During one of the conference days at Reach Australia, MTS staff put a call out that any current MTS trainers or apprentices were invited to eat lunch together. What was intended as a low-key meetup for like-minded gospel workers turned into a full room of over 80 people!
God's provision in growing MTS was clearly shown in the room at Reach Australia. Together trainers and apprentices from around Australia connected on the MTS vision and their ministry in local churches and campuses.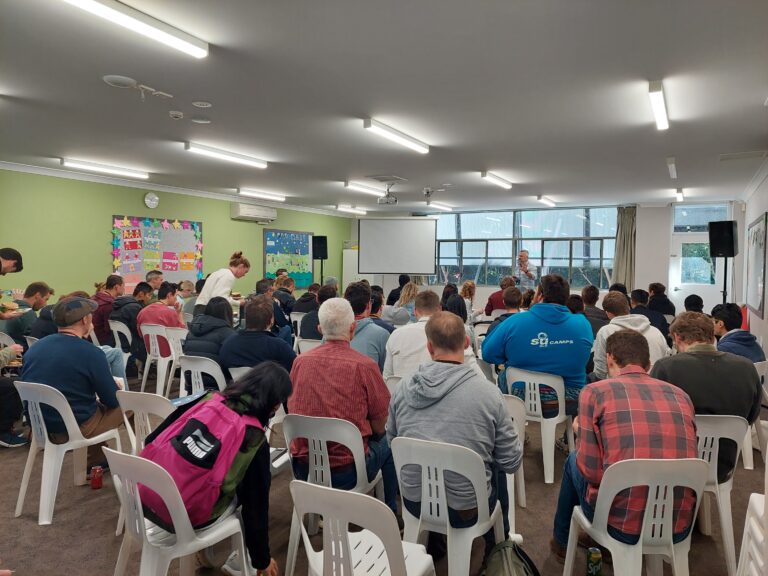 Equipping the MTS team for their work
In addition to supporting Reach Australia, strengthening the work of MTS, and connecting trainers and apprentices, the conference enabled the MTS team to be further equipped for their work and ministry. 
The team learnt a lot during the 4-day event, but one particular theme stood out for everyone: the need for humble leadership and loving service. Director of Training Russel Smidt says, "I was humbled by the reminder that a humble Jesus-like character is foundational to leadership. Paul Harrington challenged those like himself with quiet personality types that humility may require them to step up and step forwards. I am praying for and looking out for those who need this encouragement."
This teaching facilitated by Reach Australia will continue to be an encouragement and a challenge for the MTS team as they work to multiply gospel workers. 
Director of Operations Brett Douglas says, "I was reminded humility and love are an essential foundation for building and growing healthy teams, both in churches and other organisations." This pervasive teaching modelled so perfectly by Jesus will continue to play a big role in how MTS performs their work and equips MTS trainers around the world. 
Learn more about the work of Reach Australia