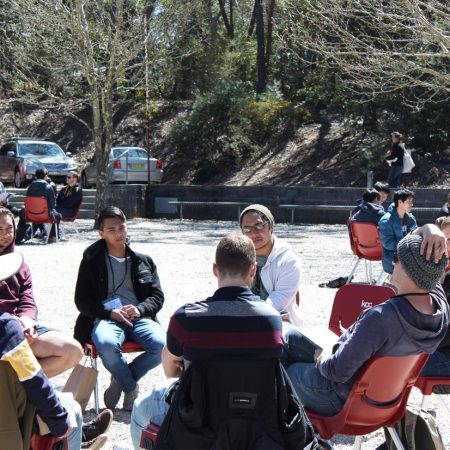 The recruiting conferences for MTS are looking a little different this year, but no matter how they look, you can be assured that Greg Lee and Jess Prins will be there.
Greg is the Lead Pastor at Hunter Bible Church in Newcastle, and he's been at every MTS NSW recruiting conference since 1992 – barring last year when he was away on long service leave. A reasonable excuse, we think!
Recruiting conferences – or challenge conferences as they are known in some states – are designed to challenge people to consider full time vocational ministry, commencing with an MTS apprenticeship.
Initially Greg attended as a prospective MTS apprentice himself, and he kept going throughout his apprenticeship, during his time at theological college, and beyond.
Now each year, Greg and as many of the HBC staff team as possible attend the conference, bringing along dozens of delegates considering MTS apprenticeships. Last year, even though Greg wasn't there, 50 delegates from HBC did attend! Of those, nine committed to apprenticeships commencing in 2020, and others are still considering their next steps.
Greg says there are three things that urge him to put the effort in to bring a sizeable group to MTS recruiting conferences every year.
Firstly, he says, "Delegates get to be around peers who are thinking about the same things they are considering. This helps the thought of changing their lives and careers become more normalised and realistic."
Secondly, he explains, "It's time away from normal life and ministry for delegates to think deeply." In our busy lives, it's hard for those considering ministry to find the time and space to seriously think, pray and discern God's leading. MTS recruiting conferences provide that space.
Finally, Greg explains, "Delegates see those who have gone before them. They realise that they are part of a multi-generational thing that they want to be with. They look up and say, 'this is the tribe that I want to be part of'." That's one of the reasons Greg brings as many of the HBC staff team as possible – so that they can encourage other delegates.
But he also recognises the value of the conference to the staff themselves. It's a time of high-quality Bible teaching, networking with peers and being refreshed.
Jess Prins agrees. She attended the very first MTS recruiting conference in her home state of Tasmania, and continued attending each year throughout her apprenticeship and beyond
Jess now works with Vision 100, which helps churches plant churches in Tasmania. They have a close association with MTS, as they recognise the need for trained, passionate gospel leaders to run the newly planted churches.
Jess encourages potential MTS apprentices to attend recruiting conferences, but she also just loves going herself. "What keeps me going is that it's really invigorating, even for those who are already in ministry. It spiritually nourishes my soul and encourages me to persevere because ministry is so worth it."
Both Greg and Jess are looking forward to this year's brand-new recruiting conference, the global MTS Recruit.
Greg is particularly excited that the online streaming format will enable some delegates to attend that might have struggled to make it to Katoomba for the usual MTS Mission Minded conference.
And they're both delighted that the conference will highlight gospel partnership and needs not just in NSW or Tasmania, but across all of Australia – and indeed, around the world.
Jess explains, "I love the global aspect. I'm really interested in hearing about how MTS works in other countries."
"Our delegates will realise that this is not just our church, or just NSW, or just Australia – it's a movement that's all about the gospel going out," says Greg.
Thank you for your support, which is enabling this exciting new conference! To find out more about MTS Recruit, click here.