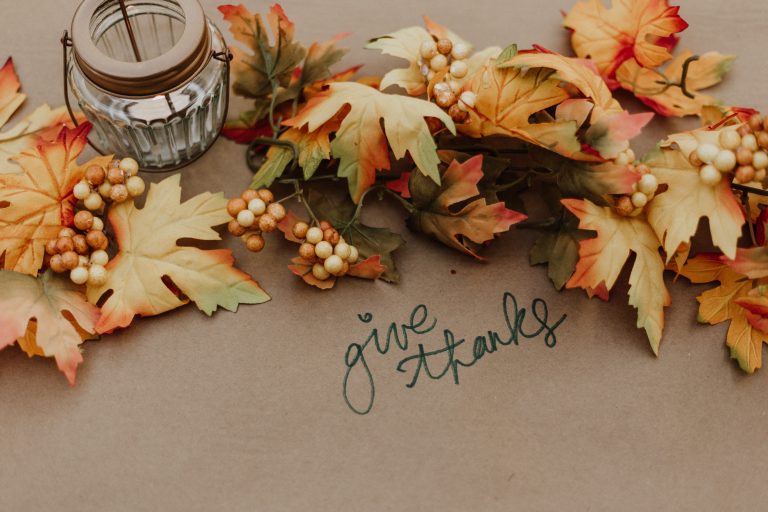 In North America, the months of October and November are marked by turkey dinners, pumpkin pie and family gatherings. It's the season of Thanksgiving – in October in Canada and November in the United States.
It's not something we normally celebrate in Australia, but when Eric Thurston, MTS Director of Training, moved to Sydney from Canada he was determined to bring it with him.
A Thurston Thanksgiving
Canadian thanksgiving began when explorer Martin Frobisher arrived in Newfoundland from Britain, and had a meal to celebrate his safe passage. "Since that time, in Canada, it actually has become a harvest celebration, because Canadian harvest happens in August and September and October. And so it's a celebration where we actually get together and we thank God for provision," Eric explains.
In Canada, the Thurston family marked Thanksgiving with a big dinner enjoying seasonal produce, turkey and local delicacies. Plus, "We have a tradition in our family, that we all go around the table and we say one thing that we're thankful for," Eric adds.
Now in Australia, the Thurstons invite friends to join them in the celebration. "This year we actually invited a whole bunch of people along, who helped us to get resettled in Australia," Eric shares.
Why should Australians have Thanksgiving?
Eric thinks Australia should embrace Thanksgiving because we have so much to be grateful for here. "First of all we should be very thankful for how COVID's been handled in the country. The whole country should be thankful for that, because God has been very gracious and merciful to this country and COVID," Eric says.
He also thinks Christians should be particularly thankful for the opportunities for discipleship, growth and leadership development.
As an example, Eric shares: "My son did his first year at university in Canada, and so he was at a large university in downtown Vancouver. The campus he was on had about 2000 students. That's pretty big, and Christian group was pretty much nonexistent.
Now he goes to Wollongong University, and he's been very involved with the Christian group there, and he's grown as a Christian man. The first week he showed up, already he had been lined up to be discipled by a fourth year student. Then he went on their weekend away for new students, and he got to know a whole bunch of Christians there, and then he went to the Bible teaching session. And he's gone to all this other stuff.
Now, you can go to a ton of Australian universities where you're going to get that. There's not a lot of Canadian ones."
What is Eric thankful for?
When reflecting on what he is most thankful for about his job, Eric answers confidently, "The trainers. A trainer is a special person. They know they're going to put work in. It's going to take time and effort. It's going to take emotional energy, and they do it because they love Jesus, and they love their apprentices. And it's voluntary. They don't have to do it, but they do it because that's how God made them. When we get a bunch of trainers together, it's a special room of people. And so it's the trainers, definitely."
So, we as Christians and as the MTS movement have a lot to be thankful for! Make sure you thank God for his kindness today – and maybe consider how you could celebrate your own Thanksgiving with your friends or family.