Reflecting on the G8 Conference 2023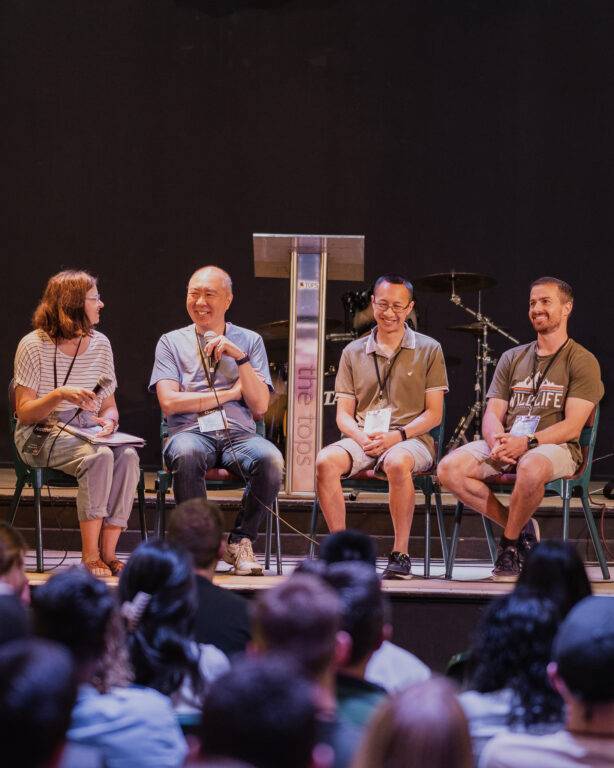 In Stanwell Tops NSW from January 16 – 19, G8 2023 National Conference was held. Over 170 people attended the event, including 102 MTS Apprentices and 53 MTS Trainers from NSW, ACT, QLD, VIC, TAS and WA. Together they learnt from speakers Ben Pfahlert (MTS National Director) preaching from the book of Haggai and Gary Koo (Anglican Bishop of Western Sydney) teaching ministry principles. 
The event involved main sessions with talks from the Book of Haggai, Ministry Principles Sessions, Workshops and Seminars, as well as time to fellowship and build connections with fellow MTS apprentices and trainers. 
Some of the G8 attendees shared reflections on their experiences at the conference. 
Apprentice and Trainer Reflections 
Apprentice Josh Ward, from St Matthew's Anglican Church (Wanniassa, ACT), shares:
"The MTS movement and G8 as a part of that, provides apprentices (like me) with a vision for multiplication ministry and the need to be intentional about investing and entrusting the gospel to the generations to come after us. Encouraging us to embed training into the DNA of the ministries we serve in.
G8 is unique in the way that the preaching is targeted specifically to gospel workers with shared experiences and challenges in vocational ministry. 
Ben Pfahlert (The MTS National Director) led us through the book of Haggai, exhorting us to again seek the Lord first. This was the call of the prophet Haggai in his preaching to the returned exiles of Israel, who had been preoccupied with their own lives. "Me first", says the Lord. 
Ben spoke through the scriptures, into the context of gospel ministry; to remember the Lord first, await the transformative work of the Spirit through the ministry of the Word and to set our hope on the grace to be revealed at the coming of our Lord.
All in all, G8 was a tremendous encouragement and gift of grace. I praise God for the four days at Stanwell Tops, it was a soul-nourishing reminder of the gospel and the need for gospel work as a new year of ministry and training begins. 
It gives me great joy to eagerly await the hope to be revealed at the coming of Jesus and confidence in the sovereign grace of our Lord to be building his church, for his glory in the meantime."
Trainer Mike Doyle, from St James Anglican Church (Berala, NSW), says:
"I just returned from the MTS G8 Conference – and just wanted to say how awesome a conference it was – for so many reasons. It's been a while since I've been to such a conference, but with the joy of having 2 new Ministry Apprentices join us – I was keen to jump back on board with MTS.
I have been so impressed with so many things, let me list a few:
The preaching of Ben – he is so good. Wow. So encouraging, uplifting, and clear. Just get him to use a war illustration and watch the tears flow!

Gary did a cracker job running the evening sessions. Got the ministry apprentices (and trainers) thinking through key theological issues and how it works out in practice.  

It was so good hearing about (and partnering) with so many MTS programs starting in so many places around the world. South Africa, Singapore, Zimbabwe, etc.

So good to hear about all the traineeships across Australia. I am so encouraged about the future of Evangelical Christianity in Australia, meeting so many churches and trainees from Victoria, Queensland, WA, country NSW – the list goes on.

It was great learning from, and being encouraged by fellow trainers, helping each other think about how to train well and raise God honouring, self-aware, servants.

I found the wide variety of people there so helpful. From different churches, denominations, backgrounds, contexts, and parts of Australia.  This meant I could step "outside my tribe" and learn from others – it's a real joy.
Thanks for a great few days and a great start to the year!"
Apprentice Mark Mifsud, from New Life Anglican Church (Oran Park, NSW), shares:
"The G8 conference has been such a blessing to my own relationship with Jesus and I've been given such a wonderful platform to build full-time ministry on. This platform has been built through the faithful preaching of God's living Word, and getting to hear the wisdom of so many brothers and sisters as they desire to live radically changed lives for God. 
G8 reminded us that ministry is not about us but about God. Our identity is found not in what we do, but in who we are in Christ. Our day-to-day ministry must be fuelled by a genuine love for people.
Having trainers and trainees come from all over Australia provided such a unique conference experience that sets it apart from any other. The dining room was where I learnt invaluable wisdom from many MTS trainers. They taught me to ask lots of questions in ministry and to be persistent in my traineeship. One trainer shared a testimony with me about his pastor bringing the true Gospel into a church and seeing its culture be transformed through patience, relationship building and faithfulness to God's word.
The afternoon workshops were super practical, getting us to think early about healthy work and rest rhythms, in addition to guiding us first-year apprentices on how to fundraise. It's wonderful to know I can ask people for financial support not as a beggar, but as a partner in the Gospel and a soldier for Christ.
What an opportunity G8 was to meet Christians who shared not only the Gospel with me but their lives as well (1 Thes 2:8)."
Pray for ongoing training and ministry
As apprentices and trainers return to their churches, campuses and other ministries, please be keeping them in your prayers. Pray for the continual training and maturing of apprentices, may God sustain them in their ministry. Pray for the patience and clarity of trainers, ask that God would give them the wisdom for appropriate care and training, and enable them to manage their own ministry and train their apprentice.