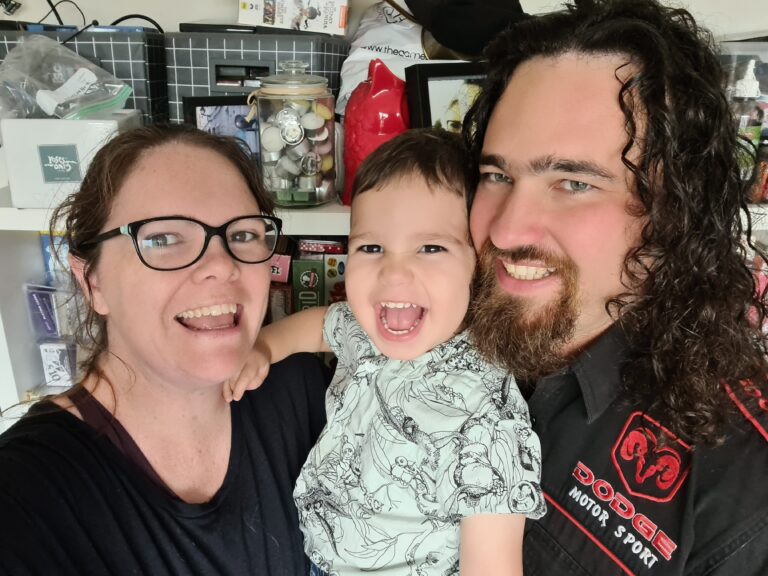 Nicola Aquilina is a second-year MTS apprentice at Bateau Bay Baptist Church. She trains with the Bateau Bay Baptist Minister Mike Littlefair, and is supported by her husband Rhyse and their son. 
Before beginning MTS in 2022, Nicola was a church administrator. This has made shifting to MTS a 'blurry' experience of navigating and creating new boundaries. 
She says, "I was reminded that it isn't a cookie cutter process, and so it's ok for my 'weeks' to look a little different. What matters is that my focus is always magnetised to God, His Word and His will."
Learning about herself and how to rely on God 
As a self-confessed perfectionist, Nicola initially saw her apprenticeship as a list of tasks to accomplish. She says, "I'm someone who likes to tick off every little thing. But I very quickly learned that that was very draining and very hardcore to [approach my apprenticeship like] that."
Nicola reflects, "What that ended up doing is taking extra time away from my family, and probably too much time away from actually learning the content that I was meant to be learning."
The day-to-day of an apprenticeship
Before heading to wherever ministry takes her, Nicola's day starts as a wife and a mum of 1. After her family is on their way, Nicola jumps into whatever her apprenticeship has for her, which changes each day.
She shares, "My week kicks off with a family music and play program and from there it's leadership meetings, admin tasks, ministry planning, a mentor meeting and all being well, a visit or two to the beachfront for some fresh air and regroup time."
In addition to hands-on ministry tasks, Nicola also has study and preparation to do, which she most commonly does at home with her cats as co-workers. She can find getting into the headspace for studying hard, so finds it helpful to start with the bible and prayer as a reminder of who she is doing it all for. 
Focus on the one who is in control
The juggle of MTS, life and family is something that continues to shift for Nicola. All it takes is a few extra things happening at church that month, a kid home sick from daycare or your spouse/family needing some extra life debriefing time to throw off the 'balance' and shift the juggle. 
Nicola shares, "Those close to me have reminded me that these things are outside of my realm of control. What is in my control is my response and action. For me, this all starts with prayer. There have been plenty of weeks where these balance challenges have hit and I haven't stopped to refocus on God. I turn to those around me looking for comfort and a pick me up. Thankfully, they are all too willing to help me out, but also, they aren't shy about sending me to my Bible. Which isn't always the comfort we go looking for! But if we let it, it is the comfort we need."
For those doing MTS Nicola says, "Surround yourself with these people. They will be invaluable in your MTS journey (and the whole of life!)."