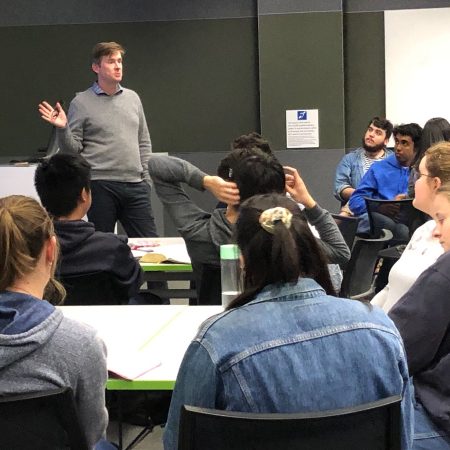 Paddy Benn has had a long association with MTS. He was on staff at the MTS Head Office in the mid-90s working in various roles including as National Director of Club 5, the former name for the MTS Recruitment strategy and conference.
These days, Paddy is a senior staff worker with the Sydney University Evangelical Union. The EU has its own ministry training program, the Howard Guinness Project, which Paddy is heavily involved in recruiting for.
According to Paddy, recruiting a person for ministry is a multiple-step process with responsibilities falling to both the candidate and the recruiter. He's thought deeply about how recruiting works best and what the key elements of it are, and is now clearly able to articulate the process he tends to follow when seeking a new trainee.
Paddy says the path towards vocational ministry often begins with a candidate. They're involved in lay ministry at their church, on campus or elsewhere, and they begin to have "a growing realisation that they would like to do more. There's not enough hours in the week!" At this point, the candidate's thoughts may turn towards asking, how much of my life will I spend doing ministry?
Identification
As a person begins to think like this, Paddy says it's now important for them to have someone walking alongside them to guide and assist them in making the big decisions that arise when a person is considering full-time vocational ministry.
But identifying such a person isn't always top of mind for ministry staff and leaders. "Recruitment is often reactive," Paddy says. "A minister just bumps into someone who is keen and so they try and help them. But MTS tries to help people in ministry be more proactive and intentional in this process."
Paddy advises that ministry leaders be on the look out for people who are growing in their Christian character. "Look for people who are willing to serve and carry the spiritual burdens of others," Paddy says. He also suggests looking to the list in 1 Timothy 3 to identify potential ministry trainees. Competency is important, but character is crucial.
It then becomes important for the leader to build a close relationship with the potential ministry apprentice. Trust is essential for the next stage of the process, which Paddy identifies as the actual recruitment phase.
Recruitment
In this step, Paddy moves to having more intentional conversations about ministry as a career. He says that key areas to discuss include the impact on family, especially parents for those who are younger or come from non-Christian families. "Sometimes it might mean waiting a while instead of jumping into ministry straight away, to love and serve your parents," Paddy says. It's for discussing issues like this that trust is crucial between the leader and the candidate. These can be hard conversations, but they're vital to have.
Paddy's also working with candidates at this point on humility, initiative, and evangelism. It's also time to start talking specifics for the next phase: training. Where? When? For how long?
Training
Paddy, of course, strongly believes in ministry apprenticeships as the first step of training, rather than jumping straight into theological college. "Apprenticeships raise questions about suitability and character that may not have been raised in previous employment," Paddy says. He also knows that an apprenticeship provides an opportunity for people to get to know themselves better in a ministry context, to identify whether they are ready for the joys and challenges of a ministry career. "If someone is going to be suitable for long term ministry, they need to know themselves well," Paddy says.
The responsibility of leaders
From his breadth of experience, Paddy believes that recruitment needs to be more at the forefront of the minds of ministry leaders. "Sometimes people in ministry realise that recruitment conferences are the only time in a year that they're having recruitment conversations," he says. "We need to build a culture of recruitment, where we're having ongoing conversations and the conference adds to that."
Paddy also points out that the language the Bible uses when raising leaders is not of personal calling, but of entrusting. "Elders have a responsibility to pass on leadership to the next generation," Paddy says. Of course, he notes that it is key for candidates to make their own decisions, but he urges leaders to take this responsibility seriously, and push those they believe are suitable towards ministry, providing as much support as possible.