City Bible Forum and MTS work together to equip Christians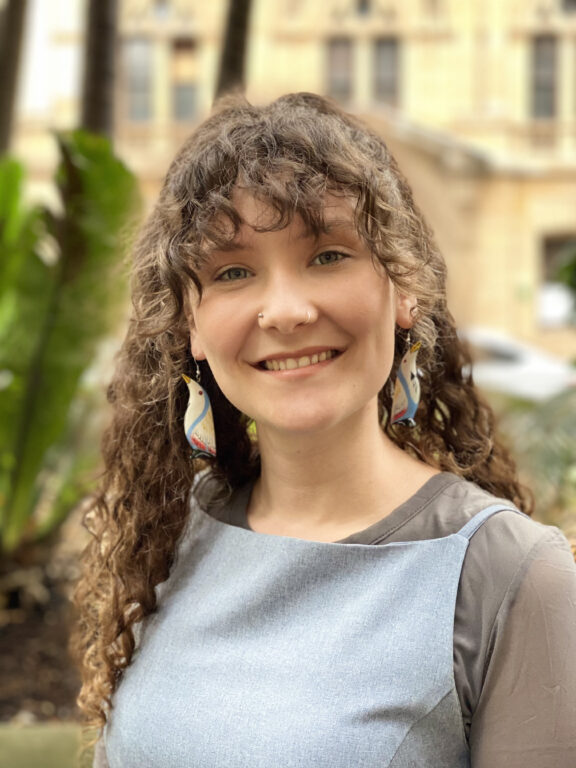 "I found all my lunchtimes were booked with wanting to catch up with people and trying to share my faith and do Bible reading with people. I just had such conviction to want to talk to my friends about my faith. It felt like work was getting in the way."
From a double life to a life in Christ
Maddy grew up in a Christian family, and her childhood was fairly typical with Church and Sunday School and Youth Group. She says, "I knew all the answers to the Sunday school questions, but I did not feel any spiritual connection with God or Jesus. I came to believe that the physical was all we had, and that you couldn't scientifically prove God was real." 
As a teenager Maddy continued to do the 'right things' in public, like leading Sunday School and Youth Group, but in private lived a completely different life. She says, "Up until I was 18, my life was all about myself. Parties every weekend, drinking, smoking, drugs, sleeping around and even stealing. I looked for validation from other people. Giving into peer pressure from my friends and fulfilling any desire I had."
Despite seeking everything she thought she desired, Maddy felt empty. She shares, "I was just a slave to the world more than anything. I was so deeply unhappy and then it just got to a point where I was like, there's gotta be more to life than this."
At the prompting of her father, Maddy decided to do Year 13 after graduating school. This gap year of time spent reading God's word, learning from it and seeing God work in people's lives had a profound impact on her. She shares, "The Bible came alive to me and couldn't be dismissed as a fanciful story anymore. It was a real, historical document about people who really existed, and still stands up today after 2000 years of scrutiny."
Becoming an MTS apprentice
After finishing Year 13 Maddy went on to study engineering at Queensland University of Technology. There she thrived as a part of the Christian group QUT Christians, and her interest in doing MTS was first sparked. She says, "I just loved being a part of it and sharing my faith. But I was still a very early Christian, and I was really on fire for Christ, but a bit immature. My first thoughts for wanting to be in ministry was because I found engineering 'really dull', but ministry, that'd be super fun."
At the time Maddy didn't realise this wasn't a helpful attitude, but one of the staff in her group helpfully spoke the truth to her in love. She recalls, "I actually had a bit of a talking to from a staff member, and they were like, 'I think it'd be best for you to go and work for a couple of years to actually get a bit more grounded.'" This experience is something Maddy is incredibly grateful for, now acknowledging that ministry should be entered into very thoughtfully.
Once she left university, Maddy moved from Brisbane to Sydney to work as a civil engineer in a large firm there. Once in Sydney, Maddy quickly got involved in City Bible Forum's Headstart group. Headstart is an opportunity for Christian young workers to stay connected with each other and a chance to get ready for the openings and obstacles to the gospel in the workplace. Maddy says, "It was just fantastic, cause it's pretty hard to transition at times for people, from uni to full-time work."
After working as an engineer for 3 years, the time for doing an MTS apprentice revealed itself. Maddy says, "I found all my lunchtimes were booked with wanting to catch up with people and trying to share my faith and do Bible reading with people. I just had such conviction to want to talk to my friends about my faith. It felt like work was getting in the way."
From here God opened up an opportunity for Maddy to do an apprenticeship with City Bible Forum, the organisation that had made such an impact on her when she first started as a full-time worker.
At City Bible Forum she is trained by Mark Leong and Grace Huang, and involved in a variety of initiatives to engage workers with Jesus, including Headstart, reading the bible with workers exploring Christianity and being a part of the video training resources for the Word One to One.
The Word One to One, City Bible Forum and MTS
The Word One to One is a UK created resource, designed to help Christians read the bible with their friends, it makes it simple and approachable to walk through the good news found in John's gospel. 
Maddy has experienced the ease of using the Word One to One for herself. She says, "When I was first working I had a friend come along to one of the City Bible Forum evangelistic events. And she filled out a survey and said she'd be interested in reading the bible."
Before she came to the event, Maddy had no idea her friend Veronica, a fellow engineer, was even interested in Christianity. When the City Bible Forum team asked Maddy to contact her about reading the bible, it was an intimidating thought. Enter the Word One to One book! 
Maddy drummed up the courage and asked Veronica to read the Word One to One with her. She says. "[I said] we're going to go through this booklet, which is very small. It has the Bible, but also some notes written up. It's actually really approachable. And Veronica was like, 'oh yeah, sure. I thought it was going to be something so much more intense.'" 
With this and many more positive experiences with the Word One to One, Maddy was excited to be a part of the City Bible Forum and MTS project to create training workshop videos for the Word One to One.
One day, Ben Pfahlert MTS National Director called up City Bible Forum looking for a video training version of the resource to use at his local Church's lay ministry training school, Park Road Anglican Church, South Carlton, Sydney. Except – it didn't exist! So, City Bible Forum, PRAC and MTS pooled their resources to make it happen. Ben agreed to pilot the video based training course at his church, Park Rd Anglican. City Bible Forum facilitator of the Word One to One, John Board, got busy writing a seven part course. 
Using the MTS office and Maddy and her trainer Mark from City Bible Forum, they recorded the workshop videos to teach Christians how to read the bible with their friends, family and colleagues. Ben says, "I love it, it's just awesome. By week two we want people to have asked non-Christian friends to read the Bible, so that by week three they'll have started doing it."
The Word One to One training workshop videos from City Bible Forum are currently being tested at Park Rd Anglican, with the aim to be soon available for other churches and groups. Tim Chen from City Bible Forum has been running the course every Monday Night from May 2nd to June 12th. 
Learn more about City Bible Forum and the Word One to One here.