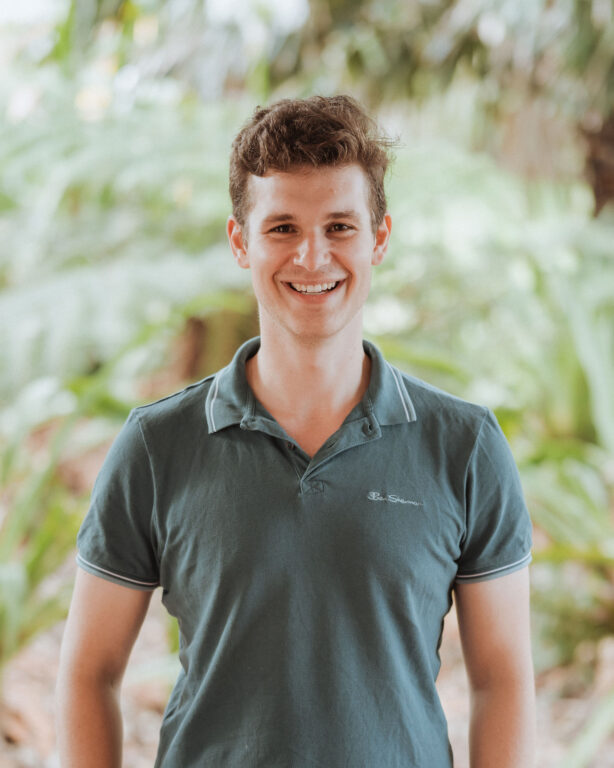 Evan Kirby grew up in a Christian family, but wasn't really involved with a church or focused on following Jesus during his childhood and into early adulthood. It wasn't until his early 20s, when he started to study to become a speech pathologist that he began to look more deeply into faith and his own understanding of Christianity. Ultimately, he says it was a phone call with his dad in 2018 that really pushed him in the right direction. 
Evan shares, "I was talking to my dad on the phone one day and it was kind of a period of life where I thought things were looking up, there was a bunch of stuff that had happened that was good. I was getting a job, starting a new degree and my dad just asked me 'how are you going taking up your cross and following Jesus?' My answer was something like 'not well' and God used that to convict me of the fact that following Jesus isn't just ticking a box."
"It's about forsaking your own way and your own goals in life and having everything come under the Lordship of Jesus. So from there is when I started taking things seriously and getting involved in church." 
After finishing university, Evan worked as a speech pathologist for a few years before deciding to leave that work behind. The conviction to 'forsake your own way' and do things for Christ had stuck with him, so he decided to do an MTS ministry apprenticeship. 
Preaching and teaching Jesus to all ages
Since the beginning of 2022, Evan has been working at his apprenticeship at St James Berala Anglican Church, undertaking a host of ministries including being heavily involved in kids ministry. 
Evan is trained by Berala's senior minister Mike Doyle. He says, "Mike and I get to do a lot of ministry together, plan for ministry together, and reflect on ministry experiences together; often thinking about what this is revealing about my character, competency and conviction, and how to grow as a disciple. It's often a combination of how to do ministry, but then also thinking of the bigger picture and looking at it theologically as well."
On a typical Sunday, Evan attends both the morning and afternoon church services at Berala, including time as part of the kids church team. He is also rostered on to preach a few times and to be a part of the music team. Evan also has leadership responsibilities at the holiday kids club that run during the school holidays. 
For both the Autumn and Winter kids clubs, Evan had the role of leading the team of leaders. This involves coordinating the responsibilities of both senior and junior leaders, helping them in their groups, making sure they organised their activities, as well as running activities and groups himself! 
At the kids clubs, Evan and the team have a twofold purpose with young people. He reflects, "We're really trying to focus on having those intentional discipleship conversations with the kids, but also between the senior leaders and our trainee leaders. A lot of our trainee leaders are youth group kids and something we're really trying to work on is making sure our youth group kids are maturing in their faith."
The other MTS apprentice at Berala, Jonathan, leads the church's Friday night youth group team, which Evan also serves on.
Evan says, "We've been trying to make it more evangelistic. So we've moved from bible studies, which were more aimed at students who are already familiar with Christianity into Bible talks. We try to ensure we proclaim the gospel to the kids each week. We're going through Mark at the moment."
This shift reflects a key vision for St James Berala with their kids and youth ministry. Evan shares, "One of our vision elements is to be a place that's overflowing with children and youth. We want to be a place for kids who are from Christian backgrounds and who aren't. We want to be a place where they come and they have a place of community, but also of course hear about Jesus."
At the beginning of the year, Evan was tasked with the responsibility of starting up a new ministry- the afterschool homework club, a place for highschool students to hangout and seek assistance with their homework. Berala and the surrounding suburbs are very multicultural and over 80% of families speak a language other than English in their homes, making homework challenging for some parents to help with. 
This ministry meets a practical need as well as one that gives the kids the opportunity to hear about Jesus. 
"We're blessing the families with some homework help for free and then they also have a place where they can come and hear about Jesus but also have a good time with friends.That's really taken off, we've gone from having no kids at the start of the year to about 30 most weeks. At least half are not from Christian homes or Christian families," Evan explains. 
Unity in and through the gospel
Since Evan has been doing his apprenticeship, he's found that there's so much importance in working together as a team and church for the sake of the gospel. 
He says, "The importance of working together for the gospel is sort of an understanding and an application that I've been convicted of so far, as well as the importance of having the gospel front and center in your mission and in what you're doing. So for the kids club, yes, we want the kids to come and have a great time because that's really important for the longevity of the relationship, but we want them to come and hear about Jesus, first and foremost. And that's informing everything that we do."