"In Sydney, you can usually drive for 10 minutes and probably hit at least five churches that will preach the gospel. You can drive for hours and hours or days, in some places in the world and you won't hit one gospel-centred church."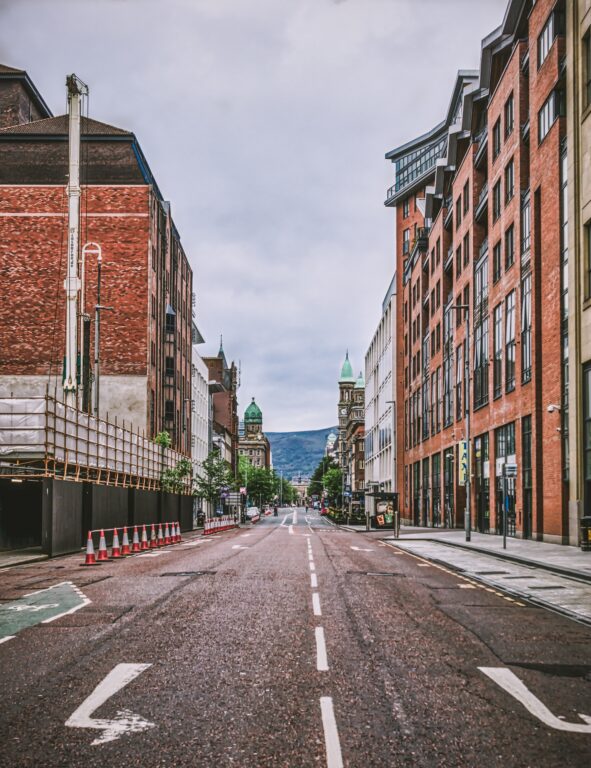 For Simon Ball, his own experiences with church formed a big part of his passion for mission. Having grown up in a nominal Roman Catholic family, Simon's understanding of God was centred around what he needed to do to know Him. Simon recalls, "I went to [Roman Catholic] scripture, but all they'd say was – be good, say the rosary, do your prayers, go to mass."
In Year 10 at Nepean High School, Simon met a group of Christians who brought him to youth group at Emu Plains Anglican Church (EPAC). Through hearing the gospel week in and week out, he came to grasp the gift of grace and put his trust in Jesus.
Stepping out in faith to mission
Fast forward to adulthood, Simon met and married his wife Danielle. They were both heavily involved at EPAC, and sharing Jesus with workmates. He says, "We knew we wanted to serve Jesus in full-time ministry in the future – but where?".
The path became clearer through God's work in others. Simon shares, "We had some friends who were missionaries in South Africa. Hearing their stories really opened our eyes. They also took us to ReachOut mission conference in Katoomba. This showed us the importance of gospel access. In Sydney, you can usually drive for 10 minutes and probably hit at least five churches that will preach the gospel. But in some places in the world, you could drive for hours, or even days, and you won't hit one gospel-centred church.
With this conviction to go elsewhere in the world to work for the gospel, Simon and Danielle started studying at Sydney Missionary & Bible College (SMBC) in 2004. Simon says, "In our first year, we were just really praying for God to give us wisdom on where was best for us to go."
During this year Sharon Wood, a missionary with European Christian Mission (ECM) in Ireland, came to talk at SMBC. She spoke about the needs in Ireland: While it is seen as a "Christian" country, only about 0.6% of the Irish are evangelicals. There was a great need for planting Gospel-centred, Bible-centred churches."
Simon shares: "We talked with Sharon afterwards and both thought, "This could be it!" All the pieces seemed to fit into place for us. In addition to my Roman Catholic family upbringing, I also had countless conversations with Catholic believers through Beach Mission over the years. I went on beach mission up at The Entrance for eight years and every single year I was like the 'Catholic magnet.' Almost every conversation I was having was with Catholic people, talking about all sorts of weird theology. I didn't understand at the time why God kept putting these people in my path, but I do now!"
These encounters and more made the move to Ireland for mission feel really 'right'. So in 2009, Simon and Danielle were sent to Waterford in the Republic of Ireland, to be church planters with European Christian Mission.
Planting churches and training apprentices
During their 10 years in Ireland, the team were sent 10 "mid-term" workers, usually for 1-2 years. As the mission team leader and Pastor of the church plant, it was Simon's role to make sure that they were trained well. Simon says, "I wanted to be intentional about their training and development. I had seen the success of the MTS model in Sydney, in both church and student ministry. So, I decided to employ this model of training with my mid-term missionaries."
To further equip his apprentices to do cross-cultural ministry, Simon added a 4th C to the MTS model – contextualisation. He describes this as, "the ability to live and work and share the gospel in a culturally appropriate way."
One particular apprentice, Ross, really showed an aptitude for cross-cultural ministry through his apprenticeship. Simon shares, "as we worked together over that time, Ross found out all these new gifts that he never realised he had. For example, he's an incredible evangelist. He just had this amazing ability to get into the Irish culture and to share the gospel. And he had really creative ways of doing this. For example, he joined a 'Viking Re-enactment" group, and he had excellent conversations with people who, let's face it, were quite eccentric! But they were also far more open to talking about spiritual things than many Irish people generally are."
In their two years together as trainer and apprentice, Simon saw Ross was cut out for cross-cultural ministry. He shares, "I encouraged Ross to look at getting trained and then going out. So Ross returned to study at SMBC, where he met his wife, Shona. They have just graduated and are currently preparing to serve in Austria with ECM.
The IMTS program
Unfortunately, Simon and his family had to return to Australia in 2019. However, his passion for training apprentices in cross-cultural ministry continues. Both ECM and MTS also saw the potential for a cross-cultural pathway for MTS. So over the last 2 years, Simon has worked on a modified training syllabus called  "Intercultural MTS" (or IMTS), which is focused specifically on raising up more workers for the global harvest.
Newly launched, IMTS is the perfect program for people who are considering mission work overseas. It is designed to give apprentices an experience of what long term cross-cultural ministry is really like, and whether it's a good fit for them personally.
For those asking if they need to do IMTS if they're already mission-minded, Simon says, "There are many people who are wondering whether God might be preparing them to go and to reach the unreached. And it takes a lot of time, money, resources, to become a missionary. So before you make that investment, it makes sense to see whether you are actually suited for cross-cultural ministry."
IMTS apprenticeships take place over 3 years and involves working full-time in ministry.
The first 2 years of the apprenticeship are done in Australia, but in a cross-cultural context. This might be in a ministry doing ESL, cross-cultural uni ministry or a multi-cultural church like ​​Marrickville Road Church under the training of Ross and Rachel Ciano. In these 2 years apprentices get the opportunity to start to have exposure to working cross-culturally, but in a safe and controlled way. They are able to "escape" back into their home culture, to rest and reflect.
But then in their third Year 3, the "training-wheels" are taken off! Apprentices are sent overseas for a whole year to train under an experienced missionary and be fully immersed in another culture.
This part is extremely important says Simon, "Training looks a bit different when you're on the field. While the gospel never changes, the ways and means we use to share the gospel, and to disciple etc. can look quite different to what we do here in Australia, depending on the culture we are working in."
"Apprentices also experience what it is really like to be a missionary and whether it is a good fit for them personally.  They get to experience culture shock, disorientation and language issues. They get a feel for the sacrifices they may need to make in order to share the gospel overseas long-term. They get a feel for what it's like to do ministry in a place where Jesus is not yet known, or not valued, where you're treated with suspicion as an "outsider". And they get a reality check – they get to see first-hand how needy some places really are for the gospel."
IMTS is for those who share Paul's ambition, "To preach the gospel where Christ is not known" (Rom 15:20).
If you're interested in knowing more about an IMTS apprenticeship, the best place to start is to come and talk to us! We'd love to have a chat with you, to find out where you are at. To hear about your heart for unreached people. And just to find out more about you – who you are as a person, what experiences you've had in ministry and in the workforce. How you're involved in God's mission now, here in Australia. And we'll talk to you more about InterCultural MTS and how it all fits together.
You can contact Simon directly on: [email protected] or speak to MTS.