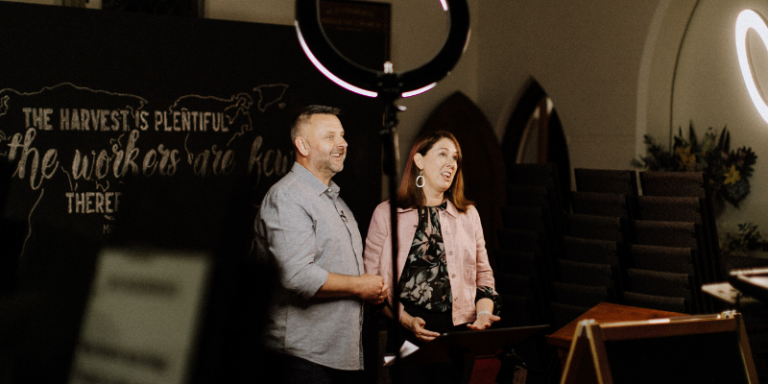 MTS Recruit was a deeply encouraging weekend, with over 1400 people from 25 countries gathering in person or online to consider a life of full-time ministry.
Depending on their location, attendees could meet in small, COVID-safe groups to engage with the live global sessions and participate in peer groups and mentoring sessions. But the entire conference was also available online, with livestreamed main sessions and smaller conversations happening over Zoom.
After a year in which churches have had to rapidly adapt to the online environment, MTS Recruit represented the hard work of many volunteers and partners, who came together to deliver this incredible event in a way that would still be engaging and productive despite the limitations of COVID-19.
And for many, their fears about 'Zoom fatigue' disappeared once the Conference began.
"I must admit I was skeptical when it was first announced as I wasn't heaps keen for another online conference, but it actually worked really well having the mix of online and F2F, and I just found it super refreshing to hear the talks from Ray and Philip and spend time talking with people about ministry!" shared a university pastor in Queensland.
The same pastor also shared this great news: "A completely unexpected thing: having it at a local church meant several members of that church who would never consider doing an apprenticeship came along, found out what MTS is, and caught the vision for it. So it will be so much easier for that church now to start training apprentices because some of the key members are already on board! Praise God for how he was at work!"
We've heard many other encouraging reviews from around the world since the conference. Check out some of them:
Thanks for a great conference, our guys really had their eyes opened to a much bigger picture of ministry –Warwick, pastor in Dubai
It was great to do this conference in community… My friend and I decided to write 'manifestos' of what we want to be doing in the next 10 years to keep us accountable, since it's so easy to get sidetracked. Not to lock it in, but to be together in committing to the cause of Christ. – Rohan Smith, via Sydney Anglicans
I was part of a local gathering in Sydney. Great conference, and really worth being in-person for the peer groups, mentoring, etc. It was a great chance to continue the incidental conversations over dinner. And also get some like-minded local young Christians together to meet each other and build the training network. This probably happened more than it would at a regular recruiting conference which was a nice outcome I reckon. – Josh Maule/via Facebook
Thanks so much for making this available for us at home! I loved watching while the kids are sleeping. – Facebook livestream viewer
I enjoyed leading a peer group and discovering how despite the women living all over Australia they all had the similar concerns about stepping into ministry. There was a good mix of discussion in the group around the Bible, broken up with watching some videos and discussing the testimonies in the videos and how the Bible passage speaks to those situations as well as our own. Even if they never do an apprenticeship, they now have a greater appreciation for the hurdles and decisions of those who do and can encourage them and be a better support to them. – Christine Jolly
Praise God for MTS Recruit and for the fantastic reach that this conference had. Pray that those who attended would consider their next steps carefully, and make decisions that bring glory to God and grow the Kingdom.
Check out this video showcasing Local Conference Gatherings meeting around the world: