"I'm looking around and going, who's raising up gospel workers [here]? We're calling more gospel workers in from elsewhere, and we're raising up so few [gospel workers] that we're not even just keeping up with our church needs, let alone sending gospel workers elsewhere in significant numbers."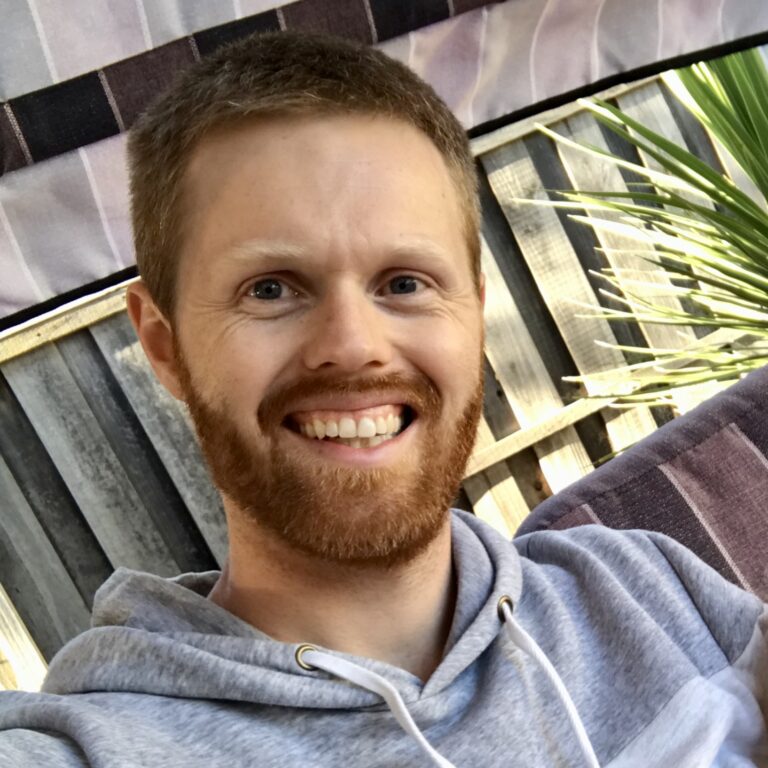 Associate Pastor at Busselton Baptist Church in Busselton, Simon Holmes is eager to see gospel workers raised up from churches in Western Australia. Originally from Sydney, trained at SMBC and having done an apprenticeship in a Sydney Anglican Church, Simon and his family moved to meet the need of Busselton Baptist. 
Now, raising up local gospel workers is a key part of his ministry vision and practice. 
Being led to faith and onto ministry
Simon grew up attending St. Giles Anglican Church in Greenwich, where he started going to youth group around Year 5. St. Giles was a small church, so youth group there involved teen bible study with a lot of handball playing. Over the following years, Simon grappled with what being a Christian was, and continually considered the question – how do I know if I'm a Christian?   
Simon shares, "I sort of felt like everyone assumed I was a Christian. I kind of had this worry or fear of what if I'm faking it." With this at the forefront of his mind, Simon went along with a group from church to the youth conference KYCK in Katoomba NSW. There the speaker struck a chord with him. 
Simon says, "He was challenging people who'd kind of been part of youth or church for a while, and were just sort of faking it. He was saying 'some of you have been hanging around, but haven't actually committed to following Jesus.' I resonated with this, and that was a sort of significant turning point in my faith journey."
From here Simon describes his Christian walk as a slow conversion experience. Every day he knew Jesus as Lord, but every day Jesus showed him more and more his need of him. 
The next year St. Giles shifted their youth group to a Sunday afternoon, leaving Simon's Friday evenings free as a Year 9 student. At this time, one of his school friends invited him along to their youth group. Simon started going along to this different group, expecting something similar to his own youth, but was met with quite a different experience. This group was large and loud and a bit of a challenge for timid Simon, but full of people with passion and joy. 
Simon reflects, "I'd picked up that I kind of knew more about the Bible and about Jesus than these Christians. But what really stood out to me was they really loved Jesus and they spoke about him with passion and like they had a personal relationship, not just a belief."
This resonated with Simon, and he continued to consider what it looked like to love and serve Jesus with his whole life. One fellow youth at his Friday youth group, challenged his thinking one day. He says, "She said when she finished school she wanted to go to Bible College and become a Pastor. I thought that was weird because, in my circle, you had to go to uni and study to be a teacher and be 30 before you go to Bible College. That seemed like what everyone did."
It was only a small thing, but this stuck with Simon, and as he was finishing school and considering his next steps, ministry was still on his mind. 
This led him to do Year 13 with Youthworks, a Christian Discipleship gap year for school leavers. During this year he stayed at St. Giles and got more involved in church ministry there, as well as learning to teach SRE with his old High School SRE teacher.
Simon and some of his other peers also attended MTS Recruit (then called Spur Conference), where Phillip Jenson was speaking. Simon distinctly recalls Philip encouraging jumping into ministry through an apprenticeship, so he sought out opportunities and ended up as an apprentice at North Ryde Anglican. There he was trained by John Chappell.
His apprenticeship gave him great exposure to ministry in a small church and involved jumping into lots of diverse ministries, including Sunday Services, creche, a church plant, student ministry at Macquarie Uni in partnership with AFES, and much more. 
From apprentice to trainer
After his apprenticeship, Simon studied at SMBC to become qualified as a Pastor. During his study, he continued at North Ryde Anglican as a Student Pastor, where he continued to work part-time amidst other ministries after he graduated. After a few years, in 2017, Simon and his wife felt the conviction to do ministry in a place of great need – a desire that had been growing in them since they met during Year 13. 
God had a path in mind and provided the opportunity for Simon to join the team at Busselton Baptist. In his role as Associate Pastor, Simon has varied responsibilities. He focuses on kids, youth and young adults, and is also involved in church leadership and vision alongside the Lead Pastor and elders and deacons of the church. One particular area of passion for Simon is training gospel workers within the church. 
When Simon joined Busselton Baptist, his Lead Pastor Paul Colyer had been there for four years, having been brought to the church from George Whitefield College in South Africa. As he moved from NSW, it struck Simon that the workers were especially few in Western Australia. 
Simon says, "I'm looking around and going, who's raising up gospel workers [here]? We're calling more gospel workers in from elsewhere, and we're raising up so few [gospel workers] that we're not even just keeping up with our church needs, let alone sending gospel workers elsewhere in significant numbers."
So Simon began trying to start up ministry training at their church, with a pilot with a keen member who spent 1 and a half days a week in a gap year program – volunteer training and ministry with Simon. From here, they were able to establish  apprenticeships and Simon is now three-quarters through the first year of training his apprentice Mark. He says, "Mark is having a really good year and learning and growing a lot."
Building the pipeline for more home-grown gospel workers 
With the future of gospel workers in mind, Simon got together a keen group of young adults (including his apprentice Mark) and took them along to WA Challenge Conference in September. Challenge Conference is a conference aimed to raise up the next generation of gospel workers and is put on through a partnership with MTS and the Perth Gospel Partnership. 
It took Simon and his group over two hours to get to WA Challenge Conference, but a five-hour return trip didn't dampen his enthusiasm. 
Reflecting on his experience now as a trainer, Simon has a renewed appreciation for his own apprenticeship experience. He says, "I've personally been really enjoying stepping into the trainer space. It's made me reflect on my MTS experience and recognise things that my trainer was doing quite intentionally that I hadn't realised was intentional."
Speaking about his current apprentice Mark, Simon shares, "Mark brings me a lot of joy as well, to see him getting passionate for Jesus and really putting the hard yards. Watching him grow through those experiences is great."
Simon is hoping to put on another apprentice when Mark finishes and to see more young people take part in volunteer training and ministry as they consider where Jesus is directing them.