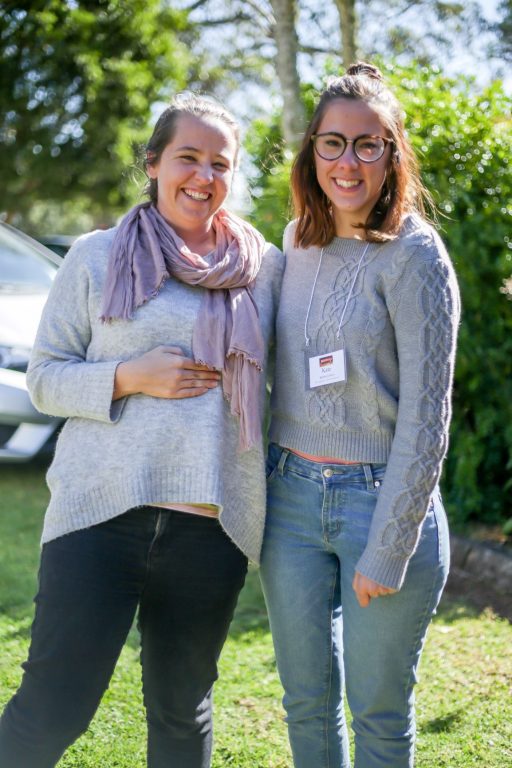 Liz M & Kate B
Kate Bartholomew – MTS Apprentice (2nd Yr), QUT Christians.
Trainer: Liz Maher
Kate will be moving on to Bible College on completion of her apprenticeship to be further equipped to serve Jesus, this is Kate's 5th Spur Conference.
What's been valuable about Spur this year?
"It's been good to get alongside people who are considering ministry in different capacities and encouraging them. We've been able to come away from the weekend, away from the normal week of ministry, to remember why we're doing it. We were able to remember the gospel in the ministry that we do and how it impacts the whole of our lives as we serve Jesus."
How has MTS set you up for the future?
"MTS has taught me how I work and how I deal with different situations, to be able to discern my strengths and gifts to be able to serve Jesus better. Instead of just doing a lot of ministry, it's been able to give me more wisdom on why and how I do what I do. It's equipped me for longevity in ministry."
Liz Maher – MTS Trainer
What's the biggest value in encouraging people along to Spur?
"I think it's important for the church to consider raising up the next generation of faithful brothers and sisters who will guard the gospel through proclaiming it. And Spur's a pretty helpful way to do that.
On an individual level – it's great to encourage people to think about what it might look like for them to serve God as the person He has made them to be. And to challenge them to live their whole lives to Jesus – whatever that might look like."
Why do you come along to Spur?
"Personally, it's always encouraging to step back from the day to day pressures and consider the big picture of the kingdom, and think about what in the end is going to really matter.
And even though I come off a tiring week on campus, there's something refreshing about spending the weekend with a bunch of people who are really on about the gospel and trying to make big life decisions in light of it."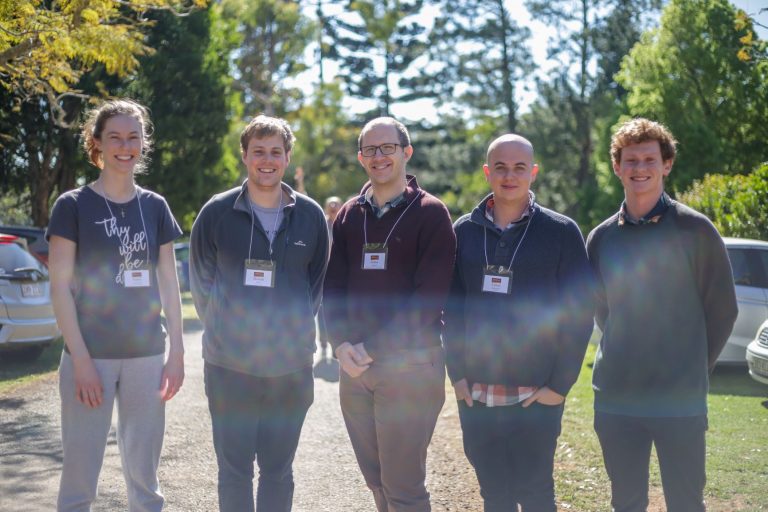 Sophie, Michael H, Josh R, Josh D, Percy
Michael Healy – Delegate
Michael is considering a ministry apprenticeship, Unichurch (SLBC) and ES UQ. He was invited to QLD Spur by Josh Russell, Dave Abraham and Andrew Brown, this is Michael's 4th Spur Conference.
How has this weekend helped you in considering MTS?
"This weekend has helped me consider MTS by presenting me the opportunity to speak to peers and mentors about MTS. In doing so it has helped me to consider what an MTS could look like on a day to day basis and some of the practical implications of this. Strand 3 was also helpful in looking at the life of Paul and his comments on ministry, what it will look like and how to do it. It was encouraging to remember that the word is central, and that it is critical for ministers and MTS not to deviate from the word of God. It was encouraging to look at Paul in 1 and 2 Timothy as he describes how he has done precisely that (stuck to the gospel) even in times of hardship, abandonment and persecution. Whether I pursue an MTS or not I think this is a helpful message for all Christians to hear."
What have been some of the valuable things in the conference?
"The most valuable part of this conference was the change to sit and chat with Andrew Brown about ministry, what it looked like for him as well as a chance to discuss worries I had. This was an opportunity to consider character traits that would make me a valuable apprentice as well as some character qualities that still need to be considered, and that may preclude me from pursuing full-time vocational ministry."
Josh Dickinson – Delegate
Josh is considering a ministry apprenticeship. He was invited to QLD Spur by James Brennan, this is Josh's 3rd Spur Conference.
How has this weekend helped in considering MTS?
"I already planned to do an apprenticeship before going to Spur this year. The weekend was, however, a great time to affirm the value of apprenticeships, talking to peers, current apprentices and trainers."
What are some of the valuable things it helped you to think through?
"One of the most helpful things I was challenged to think through was being prepared for an apprenticeship. Particularly analysing weaknesses (character-wise) that I have and look at setting up networks and structures that will best allow me to grow in these aspects and when I fail, have support throughout an apprenticeship."
Josh Russell – MTS Trainer, Unichurch Pastor (Pastor of Michael and Josh)
What do you hope the people you've invited along to get out of Spur?
"I'm hoping that Spur will give our people vision to see the gospel spread to the ends of the earth. And give them some space to think and discuss their part in that."
Why do you come along to Spur?
"I come to Spur because I want to help raise up gospel workers, and Spur gives me the opportunity to have good conversations with people considering MTS."