Join us to Pray in May in 2023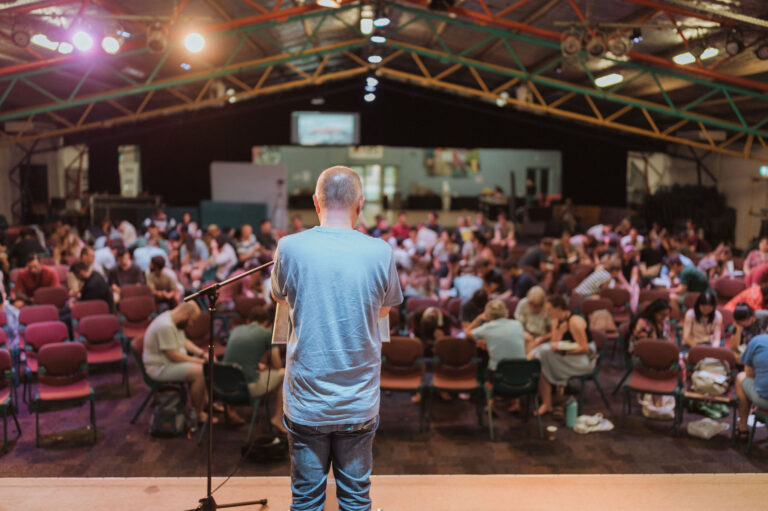 MTS Pray in May is a month-long campaign inviting all Christians around Australia to partner in prayer with the MTS movement.
Pray in May engages countless Christians in praying to God to raise up harvest workers. This year, we're focusing Pray in May on Psalm 40, and our need to be dependent on God. 
Psalm 40:1-2 says, "I waited patiently for the Lord; he turned to me and heard my cry. He lifted me out of the slimy pit, out of the mud and mire; he set my feet on a rock and gave me a firm place to stand."
In May this year, join us in praying that God would be the firm place we stand and that he will multiply the efforts of MTS. 
MTS (Ministry Training Strategy) is a movement that promotes and facilitates ministry apprenticeships. These apprenticeships are designed to raise up harvest workers through two-year, hands-on ministry training in local churches, on campus and in other ministry placements.
MTS apprentices are well placed to then undertake theological study and become gospel workers who are able to handle God's word with care and apply it with wisdom to the lives of those to whom they minister. Hundreds of men and women have completed MTS apprenticeships in Australia, and the movement is growing internationally.
We would deeply appreciate your prayers this month that our movement may continue to grow and see more apprentices raised up, to win the world for Christ.
Get the Prayer Calendar
We've created a special printable prayer calendar for Pray in May. Click here to download it and print it or save it on your computer or phone to reference each day.
Don't like paper? You can get these daily prayer points via a wonderful app, PrayerMate.
Click here to find out how to subscribe via PrayerMate. 
You'll keep getting new points every day beyond the end of May too!
Resources for Churches
We would love it if you could invite others to join in Pray in May! There are a number of excellent resources available to help encourage your church or small group to pray:
Join the fun on social media
Throughout May, please share your own photos, stories and prayer points about MTS on social media. We would love to see if you gather with friends to pray, or spend time praying at church or in your small group. If you're a trainer or apprentice who wants to encourage your friends to pray, sharing on social media is also a great idea!
Simply tag #MTSPrayinMay on your preferred social media network.
And make sure you're following us on Facebook or Instagram for daily updates including prayer points, encouraging stories and resources.
Get more fuel for your prayers
If you want regular fuel for your prayers for MTS, we highly recommend subscribing to our monthly email newsletter Partner News. It's packed full of encouraging stories, helpful resources and prayer points. Subscribe now to make sure you don't miss an exciting moment as God works powerfully through ministry apprenticeships: