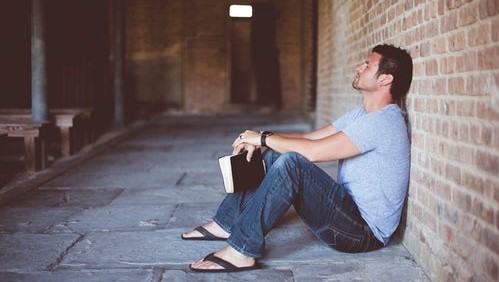 When Jeremiah prays to God in 20:7-18, he prays with stress and strain. His prayers are heartfelt, gritty, gnarly, ugly … some would say, ungodly prayers. He accuses God of "deceiving him" (v7). But as he is praying, he is connecting relationally with his heavenly father, his spiritual old man. Do you think God is surprised by his ugly prayers? Not at all.
There is a beautiful verse in Exodus 33:11 that says, "The LORD would speak to Moses face to face, as one speaks to a friend." And from what Jesus says in Matthew 11:11 we are closer to God, by the indwelling of the Holy Spirit, than Moses actually was.
So, Apprentices, what are your ugly prayers to God?
Why did you give me such dysfunctional family to grow up in? Why couldn't I have grown up in a solid Christian family like the other apprentice I am training alongside at Church? Amy's parents pray for her daily. Amy's parents arrange great, fantastic, free holidays for her … and any friends she wants to bring along!!!!. My parents oppose my ministry apprenticeship at every turn; and the thought of going away with them when I've got leave just sucks the life out of me."
Why do my friends treat me differently since I left Occupational Therapy to do MTS? I know that I wasn't invited to this year's Australia Day party because some people think I'll be a downer, a killjoy, that I'll judge what people do. When I signed up for MTS, I didn't sign up for that?
Lord, I hate Sebastian Weaver. Why did you put him in my Year 6 Scripture class. He wrecks everything. He undermines me. He makes me look like a fool in front of the class teacher doing work up the back. Lord he is 11 years old and makes me question my suitability for ministry … I hate him, please get rid of him from my class Lord??
Friends, pray ugly prayers like Jeremiah did. Pray to the Lord as one speaks to a friend.