MTS Challenge is a
movement
conference run to
inspire
people to
own
the MTS vision and
challenge
and
enable
people to
act
to win the world for Christ by multiplying gospel workers through ministry apprenticeships.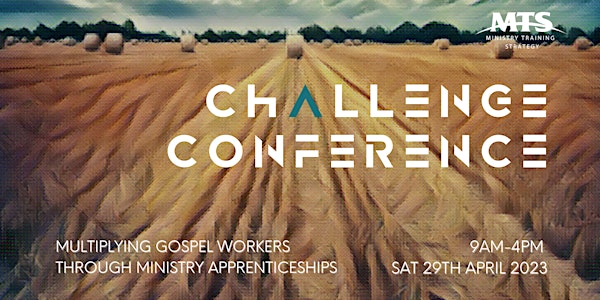 Our world needs the gospel. The harvest is still plentiful, but the workers are still few. MTS Challenge is running to help you raise gospel workers through ministry apprenticeships. 
Greg Lee will help us see God's vision for his world through preaching on Revelation. We'll hear the needs of our city, country, and world, and pray for God to raise workers. Seminars and workshops will help us start or grow a ministry that multiplies training women and men for gospel ministry. And we'll celebrate what God has been doing as apprentices graduate.
MTS Challenge is no longer a recruiting conference (come to MTS Recruit!). This is a conference for those in gospel work who want to raise up more gospel workers through ministry apprenticeships. If you're in gospel ministry, including current and past apprentices, this conference is for you.
Josh Allen's reflections on MTS Challenge Conference
MTS Challenge conference is about to change. I've been coming to Challenge for 9 years now, and for the last 4 years I've been involved in running the conference. It's hard to change something that you love and isn't broken, but this year we're doing exactly that. And I want you to know why, so you can register and invite people to come with you.
How is MTS Challenge changing? The short answer is this: MTS Challenge is changing from a recruiting conference aimed at challenging people to consider starting a ministry apprenticeship, to a conference aimed at helping people in gospel ministry train more gospel workers through ministry apprenticeships.
But why make this change from focusing on potential apprentices to focusing on trainers and potential trainers? Well there's a powerful combination of opportunity and need. 
For one thing, a new opportunity has opened up, because there's more happening to help potential apprentices consider starting an apprenticeship. Here's three big things. First, we aren't ditching running a recruiting conference. Instead, we're aiming to run an even better recruiting conference, MTS Recruit, as a weekend-long residential conference in November. Secondly, we're helping individual churches and parachurch ministries run their own in-house MTS Info nights. And thirdly, we're supporting people to consider apprenticeships with a cohort of peers through year-long Pathway groups. Improving our recruiting conference, giving ministries support to run in-house events, and connecting people in long-term pathways to consider gospel ministry means we don't need to lean on MTS Challenge as the key recruiting moment. 
But the other thing is even more important. Over the last five years we've realized that, under God, it is the trainers and potential trainers who are the key to raising up more gospel workers in order to win the world for Christ through ministry apprenticeships. We want to help existing trainers to train more apprentices, and to train them even better so they go on to train others across a variety of gospel ministry contexts. We want to help those who are training people every few years to develop the kind of ministry that is raising up apprentices every year. We want to help those who haven't trained anyone raise up their first apprentice from among their ministry.
So we're changing MTS Challenge. MTS Challenge is now running to help you raise up the next generation through ministry apprenticeships. This conference will help you go from training none to one, from training occasionally to consistently, and from training many to many multipliers. 
What will the conference involve then?
Here are some things to expect. Expect to be refreshed and stirred up to see God's vision for God's world from the preaching of God's word. Expect to hear about the plentiful harvest in Victoria, in Australia, and around the world, and so to pray for God to raise up gospel workers. Expect to think deeply and critically about our ministries, and to work through issues and next steps in practical workshops. Expect to celebrate the work God is doing and to be encouraged through meeting people invested in training the next generation.
If that sounds like something that would be good for you, your ministry, and your leaders, can I encourage you to put MTS Challenge in your diary (Saturday 29th April), register here, and invite your team along.
MTS Challenge is a conference for those who want to win the world for Christ by raising up gospel workers through ministry apprenticeships, and we want you to come and be strengthened to do exactly that.