Meet an MTS Apprentice – Amani Kazogolo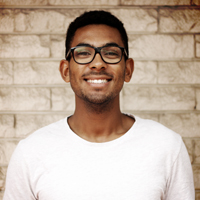 'Seeing the way God has been working in the lives of the kids I lead at youth group has been marvellous. Coming to their final years of school, I have seen a real maturity start to develop in some of them. One boy in particular was struggling with feelings of guilt due to sin. Allowing God's Spirit to work in his heart, not just knowing that through Jesus he is freed from guilt but actually feeling it was a great thing to share in. Seeing him grow through this process has been a real joy.'
Amani is an MTS Apprentice at St Luke's Miranda with Brett Middleton as his trainer.
Describe your journey so far as an MTS apprentice?
It's been fantastic. I've really loved the opportunity to try my hand in a range of different ministries. The time and space to prepare and think about how to minister effectively to God's people, has been challenging, but a real joy. Working closely with my trainer has been a fantastic experience. I've also appreciated the wisdom and wealth of experience I've been exposed to with the rest of the leadership team at Church. I feel as though I have learnt a great deal in a short time span.  
What's the best advice your trainer has given you so far?
Not to forget the people in amongst the process. Getting overwhelmed by the number of things that need preparation can lead to them being looked at like a 'checklist' of things to finish. It's a quick way to start being ineffective if you forget who it is you are ministering to and why.
Tell us a story from a day on the job?
Seeing the way God has been working in the lives of the kids I lead at youth group has been marvellous. Coming to their final years of school, I have seen a real maturity start to develop in some of them. One boy in particular was struggling with feelings of guilt due to sin. Allowing God's Spirit to work in his heart, not just knowing that through Jesus he is freed from guilt but actually feeling it was a great thing to share in. Seeing him grow through this process has been a real joy.
What is something you didn't expect to have learnt from being an apprentice?
How much behind the scenes work and effort is required to make a Church run. Growing up with a minister for a father, I thought I had a fairly solid grasp of what goes on backstage. Being exposed to it all throughout the week, as well as having a greater involvement in Church life myself, has really shown me the hard work required to lead God's people well.
What do you plan to do once you have finished your apprenticeship?
I have no concrete plans. I think I want to work with children/youth long term. I don't know how that is going to look, but I'm excited to see what God has in store. 
You can support Amani as an MTS Apprentice here.
You can support the MTS Multiply 500 EOFY Matching Appeal here.