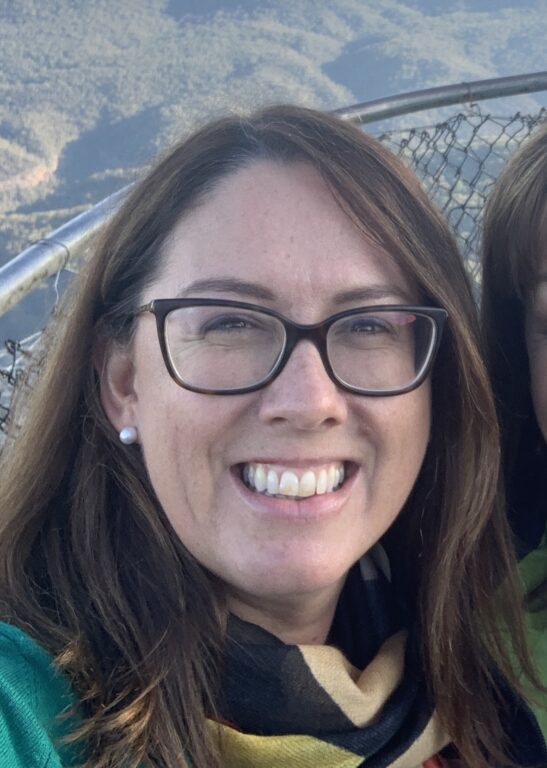 By Vanesia To, Communications Cadet
As a Senior School Chaplain and Christian Studies teacher at Danebank, Emma Pfahlert spends her days speaking into the lives of young girls and sharing the Gospel. But what was her journey from becoming a Christian to teaching Christianity like?
Emma grew up with a messy understanding of the Christian faith. She attended a school that taught her that all religions were the same. But in amongst the troubling teenage years, Emma was struck by God's steadfast love at a Bible study she was invited to. Reading through 1 Corinthians 13, Emma thought: "I would love to know that love…to have people love me that way and to be able to love people in that way."
With this newfound understanding of Jesus' love, she continued to explore Christianity at the Melbourne University AFES group. She did the Just for Starters studies with MTS trainer and AFES staff worker Fiona Cheng, and her faith continued to grow and grow. Emma studied to become a psychologist but having finished her degree she was inspired to devote her time to do a part-time ministry apprenticeship.
From learning to mentoring
Emma's excitement to be trained up in ministry was fuelled by her desire to be equipped with the skills and knowledge to share the Gospel. Her MTS apprenticeship consisted of meeting weekly to train with Gordon Cheng, gathering with Fiona Cheng for one-to-one sessions and being trained by Jean Williams to lead Bible studies.
Emma's MTS experience played a pivotal role in helping her to recognise her spiritual gifts and love for one-on-one discipleship and mentoring. Reflecting upon her weekly meet ups with university students to read and apply the Scriptures to their lives, Emma shares that: "I had the opportunity to encourage and challenge them in particular ways that a normal friend wouldn't."
However, Emma encountered the drawback of being heavily invested in her part-time apprenticeship, whilst juggling work and other commitments. She suggests that a full-time apprenticeship would've been the better option.
With the endless pathways post-apprenticeship, what led Emma to choose teaching and chaplaincy?
A new destination
Having completed her MTS apprenticeship – equipped with the experience of being a Gospel worker –  Emma was eager to see what was ahead. And what an eventful few years she had. From getting married and then moving to Sydney for husband Ben Pfahlert to study at Bible college, Emma realised that her journey in ministry was to continue.
"I wanted to spend all my time doing ministry and got really excited when Ben would come home and tell me about what he was learning about," she reflects.
So, she chose the route of Bible college to deepen her theological framework. In the back of her mind, she wondered whether chaplaincy could be the right next step. 
Starting in chaplaincy
Post-Moore College, Emma returned to Melbourne for six years with Ben. She was able to volunteer with AFES as she balanced raising her children. But as the kids grew older, Emma decided it was time to continue into vocational ministry. After earning a Graduate Diploma in Education, Emma was well equipped to start her role as a Christian Studies teacher, and later as a Chaplain.
She doesn't think her past qualification in psychology was a waste. "God has put me somewhere where I can use my qualifications from the past because I do end up doing a lot of incidental counselling, so psychology comes in handy," she says.
And even though her university apprenticeship was in some ways very different to her current ministry, she recognises the many transferable skills she was able to learn.
"Handling the Scriptures and being able to distil complex theological ideas and explain them simply, that is a skill that is useful at university with new Christians or non-Christians and also in a school environment as well," Emma explains.
Teaching God's unconditional love
Emma' work covers a wide scope as she leads Chapel, small lunchtime groups and Christian Studies classes directed at students from Year 7 to Year 12.
She presents herself as a role model to the young girls – a godly woman who's passionate to share God's Word, and to guide them and care for them as individuals no matter who they are.
"It's a wonderful expression of the love that we have from God to be able to love the girls unconditionally," she says.
In amongst the demanding aspects of teaching – the paperwork, report writing, lesson plans and marking – Emma finds great joy in the fantastic chances she has to explain the Gospel. She describes this great privilege as "an awesome thing to witness…to see hundreds of girls every week and give them an opportunity to respond in repentance and faith and to do it in a variety of modes."
Emma recognises that some girls are more engaged than others during Chapel and classes, but she trusts that God is powerful and His Spirit is at work in their lives.
"I'm just a messenger," she says.
Coming full circle
From first understanding Jesus' love as a teenage girl to now serving in roles that teach young girls of the same love, Emma has gone full-circle.
Considering pursuing a similar path in chaplaincy? Emma suggests that an MTS apprenticeship would be a beneficial first step: "I think it would be great to do an apprenticeship because it is an opportunity for you to test the waters in terms of being able to explain and understand the Scriptures clearly in different ways."
She also thinks it doesn't really matter if your apprenticeship is, for example, in a church or on campus, rather than in a school, as long as your trainer is good. "You're still getting the opportunity to do upfront stuff but also one-on-one and small groups," says Emma, "That's great for school chaplaincy because you do end up presenting the Gospel in different contexts."
Despite the fairly long journey from an apprenticeship to theological study to obtaining an education degree, Emma believes that Chaplaincy is a wonderful avenue, especially for women, who have the gifts, to freely present the Gospel in a public environment.
After many years of study and preparation, Emma is now thrilled to be able to help young girls discover the magnitude of Jesus' love every day.