Gospel Patrons Book Review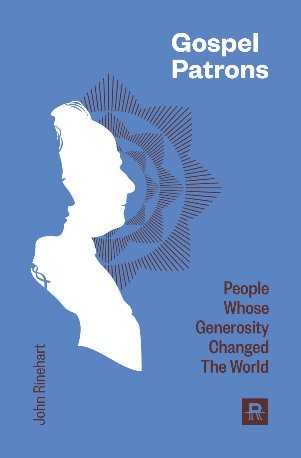 Gospel Patrons is an awesome book about a rarely addressed topic. I have never read a book about gospel patronage before, which is curious in light of the fact that Phoebe, who is mentioned in the last few chapters of Romans, is indeed called a "patron".
John Rinehart, a Californian Church Planter, explores the complexities of Gospel Patronage in a manageable 174 pages. He describes a Gospel Patron as similar to what is called an "Angel Investor" in the business world, a person who financially backs small start-ups or entrepreneurs. The terms given by Angel Investors tend to be more favorable than those of other lenders, as their investment is usually in the person rather than the financial gain that may come their way.
When I first picked up Gospel Patrons I thought it was like a Lamborghini, only for use by rich people. I was wrong. Let me explain.
 "The aim of this book is to ask and answer two very important questions: First, How has God worked through people to change the world? And second, how do we become those kind of people?" (p. 20)
Rinehart answers the first question by highlighting some Gospel Patrons in the Bible; people like Mary, Joanna and Susanna (Luke 8:1-3), Theophilus (Luke 1:3) and Barnabas (Acts 14:8-14).  He carefully explains how these patrons gave generously risking their lucre (money) and others gave generously risking their lives (e.g. Priscilla & Aquila, Rom 16:3-4). Rinehart then goes on to tell the story of three patrons in Church history; people who stood behind and supported men who led transformational Gospel ministries. I cried (well, sobbed in fact) when reading about Humphrey Monmouth's support of William Tyndale.  He translated the Bible into English in early 1500s.  Equally as entrancing was the story of the feisty Selina, Countess of Huntingdon, who supported George Whitfield, as well as the story of the uneducated merchant John Thornton supporting the slave trader turn pastor John Newton.
Most of us have never heard of Monmouth, Selina or Thornton, but their patronage and partnership changed the course of human history. Rinehart's carefully researched history, which cites extracts of letters between these Pastors and their patrons, stirs up wonder.
Listen to this conversation at the introduction of Lady Selina to George Whitfield:
"So she said, "My mind is made up. I'd like to propose a partnership."
"Go on," he said.
"God chose me to be a member of England's nobility, and now I'm ready to use my position for Jesus' sake. And I want your help."
"I'm listening," Whitfield said, a warm smile spreading across his face like a sunrise.
"Well, Galatians 2:2 says that Paul preached privately to those who seemed influential in Jerusalem.  And I have a burden for the influential in England. They won't go out to the fields to hear Methodist preachers, and when they attend Church they hear sermons with no theological guts. Whitfield, I want you to bring the gospel to them…in my home…starting tomorrow night." (p. 67)
The desire of Lady Selina is that people would hear the gospel, the true gospel of the Bible, proclaimed faithfully. She was personally involved in the joyful giving of her resources, all in the hope that Jesus would be proclaimed. These traits are what Rinehart distills as being the three ingredients of a great patron of Christian ministry.
The first is joyful giving. Put simply,
"Gospel Patrons enjoy giving. For the Gospel Patron, giving is an opportunity, not an obligation; a blessing, not a burden." (p. 154)
Then comes the second ingredient – gospel proclamation. God's family business is news. God and His family are on about making the news of the Gospel known everywhere possible.
The last ingredient we come to is personal involvement. Gospel Patronage is not only in giving money to ministry. It is an investment in the ministry, pledging time, assistance, encouragement and prayer.
Rinehart does carefully distinguish between Gospel Patronage and philanthropy. He knows that Gospel Patrons of old were motivated by the Gospel of Jesus Christ, so he devotes chapter 5 to articulating "The Gospel of Gospel Patrons." It is Biblical, Christ-centred and extremely encouraging.
One of the surprises I stumbled on when reading this book was a realisation that I am a Gospel Patron, with the resource of time. I coach a Church planter and invest deeply in him. Rinehart writes,
""Is this book only for the rich?" some have asked. No. God wants to see our faithful stewardship in little or much." (p. 27)
So how do we move forward on our path as Gospel Patrons? As you'll see in Rinehart's book, available here, Gospel Patronage is about supporting ministry with all kinds of resources. Of the ministries happening around you, which could you support? Let's think creatively about the resources we have at our disposal.
Pick something you're passionate about and set about finding ways to support it. Perhaps your passion is ministry to young people. You could meet with the Youth minister at your church once a quarter and ask him the question, "What do you need to make the ministry grow?" Then organise to supply it using your contacts. If you are passionate about church planting, find a church planting network or organization that you trust. Meet with the CEO and ask him, "What do you need?"
I commend this book to you and finish with perhaps the most powerful sentence in it:
"In the ultimate example of Gospel Patronage, we see that God came among us, walked our dusty streets, ate our food, and got personally involved in our lives. God invested Himself in the spread of the gospel. So should we." (p. 161)