Rob Falls was a student at the University of Sydney when the staff at the Evangelical Union gave him the 'tap on the shoulder'.
Now, with a ministry apprenticeship and a theological degree under his belt, he's working at Talua Theological Training Institute in Vanuatu as a lecturer.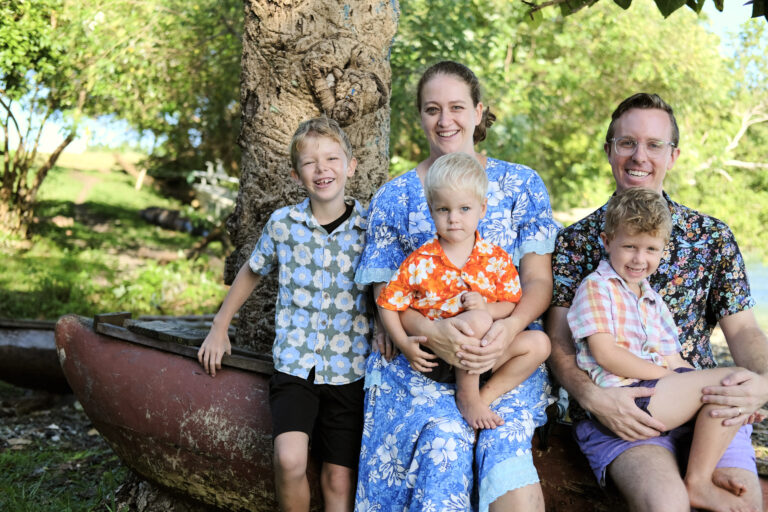 Dipping his toes into ministry
Rob is one of hundreds of past ministry apprentices who have gone to bring good news of great joy to people overseas, but it all started for him when he began his apprenticeship in 2015.
Rob remembers, "I wasn't sure about whether I wanted to do full time ministry or go and re-study to be a teacher. So it felt like a really good space where I could dip my toe in the water of vocational ministry get a sense of what it's like to do it full time."
Rob loved meeting with Christian students and reaching out to non-believers, and he also got an opportunity to do some cross-cultural work. "Through the National Training Event in Canberra, I got in contact with those doing ministry in the South Pacific and with Pacific Islanders and part of my second year was spending a couple of weeks off campus and in Vanuatu. I trained some of the university students at the University of South Pacific in Port Vila, but also visited other islands of Vanuatu and got a sense of the place."
His ministry apprenticeship gave Rob the chance to explore the possibilities that God had set before him to serve in a variety of contexts. As an apprentice, Rob was able to train for ministry in a practical, reflective way, as well as test his aptitude for ministry as he grew in character, competency and conviction.
Serving in ministry in Vanuatu
Thanks to the connections that Rob made during his apprenticeship, following his theological study at Christ College in Sydney, he and his wife El and their kids moved to Vanuatu so that Rob could work at Talua.
It's a very different sort of experience from Bible college in Australia. Rob shares, "Many students who come to train for pastoral leadership in churches themselves don't have a clear understanding of God's word or the gospel of grace. They are there because their families have sent them to become pastors. And what I have seen is some of them really transform their understanding and thinking, learning how to read and understand God's word, and also develop a real desire to actually serve him out of a new understanding of the gospel."
Rob works with people coming from all different experiences and circumstances, many of whom experience a lot of personal growth as Christians once at college. Rob says, "For example, I have two bachelor students in our degree program now, both of whom were sent because their family said they must go and become pastors. So these two guys turn up at college a few years ago and they don't have a good grasp of what the Bible even says." Over the last 15 months that these students have been studying, Rob has has the opportunity to disciple them as well as teach them, and he has been encouraged to see significant growth for them both.
He reflects, "Both of them now are passionate to go back and work as pastors, not out of a conviction that their parents need them to, but because they want to actually go and disciple and evangelise their home islands.
I get really excited about seeing the light bulbs go on for these students who are culturally Christian, but many of them come to a real deep saving faith when they're with us at the Bible college."
Preparing and leading people into ministry and mission
Rob says, "You should absolutely support the work of MTS. Apprenticeships are such a profound way to prepare and lead people into ministry and mission. That's my story, and that is the story of so many of my friends who are also in ministry."
Now that Rob works in a context without ministry apprenticeships, he sees the need for them even more. He shares, "Vanuatu does not have a training culture. And so when people get sent to Bible college where we are training people for ministry, I am seeing the difference that an apprenticeship could make to the students who come to us in Vanuatu. I can now see incredibly clearly that MTS does have a significant and profound effect on those who end up long term in ministry and mission work. So please continue to support the work of MTS!" 
Will you please consider supporting the work of MTS, as we recruit and train ministry apprentices who will go and bring good news of great joy to all people? And will you please consider supporting the growth of MTS movements around the world, bringing the value of ministry apprenticeships to other countries?
Donate to the work of MTS here