Melanie Thomas had the privilege of always having faith in God from her earliest memory. She shares, "My parents taught me about God at home and took me to church and Sunday school. I don't think there was ever really a time when I didn't believe or when I didn't know that Jesus loved me and died for me." As she grew up, and especially during her teenage years, Melanie experienced gradual growth as a Christian, learning to trust God and see his faithfulness through the good and the bad.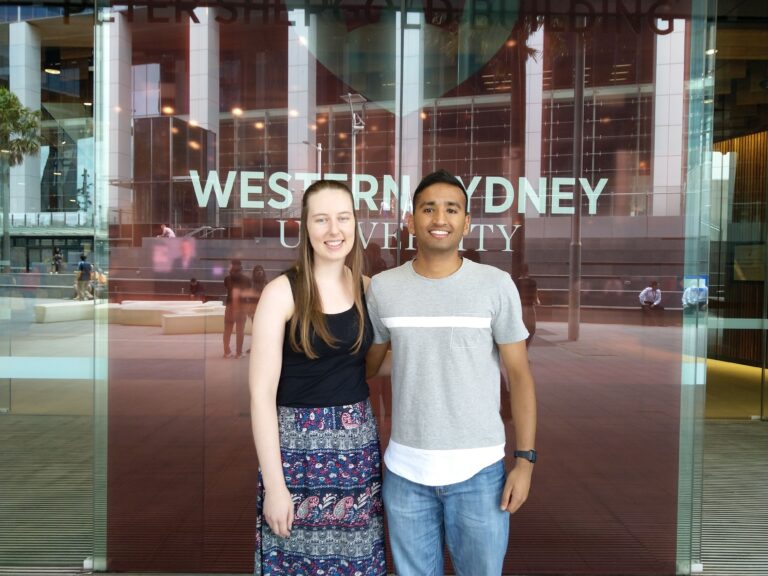 Experiencing university ministry
After finishing school, Melanie started studying social work at the University of Western Sydney, Bankstown Campus. There AFES (Australian Fellowship of Evangelical Students) ran a great Christian group called Campus Bible Ministry. Melanie got involved and began to see even more growth in her maturity as a Christian. 
Melanie says, "I really grew a lot in my own faith, and saw other people grow a lot in their faith as well. I also had lots of opportunities to get involved in serving." As a student, Melanie was involved in bible study, meeting up one-to-one with other students and being part of event organisation. 
As well as growing her in her walk with God, these experiences also helped her develop leadership skills. Throughout her time involved in Campus Bible Ministry, the AFES Staff Workers walking alongside her encouraged Melanie to consider ministry. However, Melanie wasn't yet ready.
She reflects, "At the time I knew that I really wanted to use my social work degree and work in the degree after finishing uni."
Seeing brokenness and the need for Jesus
Melanie finished university in 2017 and started her career as a Social Worker. She says, "I did that for a couple of years which I really loved. It was really important working with families that had a lot of complex needs and challenges."
Despite how important her work was, Melanie felt there was more she could do. She says, "There was a little, maybe like disappointment or frustration, because I couldn't share with them their greatest need, their need for Jesus."
During this time of work, Melanie was still in touch with her friends from Campus Bible Ministry, and had been attending MTS Recruit Conferences most years. Melanies says, "I always found those conferences really helpful. Going through the strands and learning about how a ministry apprenticeship could grow you and your skills and your character, and chatting with other people who are at a similar stage of thinking, was great. I think those conferences just helped keep ministry on the radar even as I was working."
Then in 2018, Melanie got married and she and her husband (who had been part of Campus Bible Ministry together), were both considering ministry. She shares, "We were considering how to best serve God and thought a ministry apprenticeship could really help us to help make those decisions and help figure out if that's something that God wanted. So we thought – let's do a ministry apprenticeship together. Back at the uni where we studied."
So Melanie and her husband Sam returned to the University of Western Sydney, Bankstown Campus as AFES-MTS Apprentices. 
Working at AFES Campus Bible Ministry 
In 2020 Melanie started her apprenticeship, and felt greatly privileged to be able to be trained by one of the staff workers who had been so instrumental to her growth as a student, Kit Ng. 
Her responsibilities while doing her apprenticeship were varied, including leading bible study, meeting one-to-one with students to read the bible, evangelism, coordinating events and being involved in the writing and creation of training and conference materials. 
However many of these things came with challenges, especially when her two-year apprenticeship stretched over both the 2020 and 2021 Sydney lockdowns and various pandemic restrictions. 
Melanie shares, "Thankfully most things we could kind of transfer to Zoom. So we did Zoom Bible studies, Zoom one-to-ones, Zoom training, Zoom conferences. So we pretty much did most things on Zoom."
One thing Melanie was sad they couldn't do well online was evangelism to students around campus. She reflects, "That was a bit of a shame. I felt like I didn't sort of grow in that as much as I would've liked to."
Despite this however, lockdown did bring about other opportunities for ministry. Melanies says, "I felt like I ended up doing more pastoral care because a lot of the students were struggling with isolation and being at home and mental health and things like that. So I ended up being able to grow in that and develop good relationships with the students through supporting them."
After finishing her apprenticeship, Melanie knew she wanted to pursue ministry. So this year she took up a part-time role as an AFES Staff Worker at the Bankstown Campus, while also studying part-time at Sydney Missionary Bible College. She shares, "I felt like that's the role that God was leading me into. Into continuing with the students and my relationships with them and my work with them."
She also saw the real value and need for more gospel workers in Western Sydney in uni campuses. Melanie says, "We have a lot of students from different cultural and religious backgrounds coming to our uni's that often haven't heard about Jesus from the countries they have come from."
Over her apprenticeship and her time as an AFES Staff Worker, God had been teaching Melanie of his sufficiency and sovereignty over all things. Even when she experienced great loss in her family during 2021, and was navigating grief while also trying to run her ministries, God still worked in her. 
She shares, "Reflecting back on that time, I could just see how God was still working so powerfully in the lives of the students. He was still growing them so much and working in the ministry. It was really exciting to see great things happening and just realising that it's not dependent on me or my energies or efforts or my own strength, but it's actually God. God's power working through me."
One particular verse of encouragement for Melanie is 2 Corinthians 12:9.
"But he said to me, "My grace is sufficient for you, for my power is made perfect in weakness." Therefore I will boast all the more gladly about my weaknesses, so that Christ's power may rest on me."