"All authority in heaven and on earth has been given to me. Therefore go and make disciples of all nations, baptizing them in the name of the Father and of the Son and of the Holy Spirit, and teaching them to obey everything I have commanded you. And surely I am with you always, to the very end of the age." (Matthew 28:18-20)
Jesus entrusted the Gospel to his Apostles
When Jesus began his ministry on earth, one of his main focuses was on the 12 Apostles who he sought out and taught the truth of the Gospel to. Before Jesus returned to Heaven, his final command was to "go and make disciples of all nations…" as found in Matthew 28. Then it was up to the Apostles to continue teaching the Gospel and training up others to come after them to continue the work that Jesus had begun.
In 2 Timothy 2:2, a pinnacle verse of the MTS vision, 'entrusting' is a key instruction. The Apostle Paul says, "And the things you have heard me say in the presence of many witnesses entrust to reliable people who will also be qualified to teach others."
Based on this very example of Jesus entrusting the Gospel to the next generation, and of the model shown in 2 Timothy 2:2, MTS invests in a similar pathway for growing and training the Christian leaders of the future, known as Entrusting.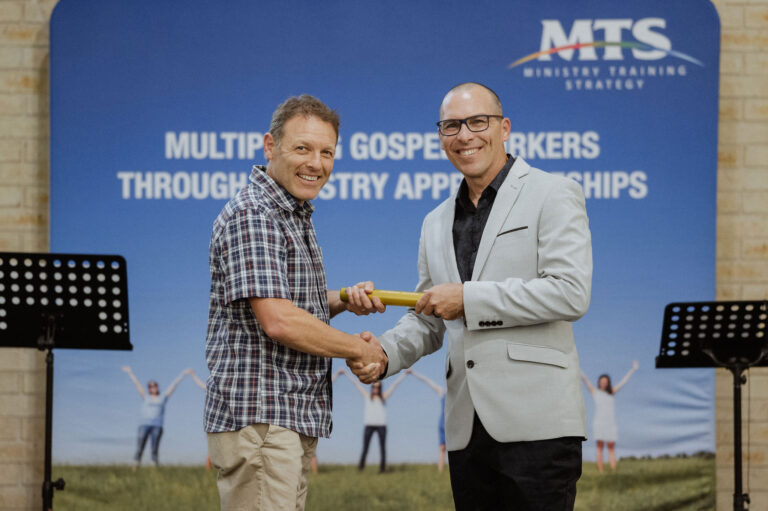 The MTS Entrusters framework
82% of MTS Apprentices say that the biggest influence for them taking up training for ministry is another gospel worker. The "tap on the shoulder", where a mentor or ministry leader prompts a potential gospel worker to take up an apprenticeship, is key.  
The Entrusting Family Tree approach not only urges Christian leaders to mentor the next generation, but keeps the Team accountable and focused on the vision: to multiply Gospel workers through ministry apprenticeships.
In short, Entrusters are MTS Trainers, who have trained someone who then goes on to be an MTS Trainer themselves! This is how the Entrusting Family Tree sprouts and grows. 
An Entrusting Family Tree consists of: 
Older Entrusters (Pauls)

– usually a male or female Gospel worker 

Younger Entrusters (Timothys)

– someone known to the Older Entruster. They will usually, but not always, be a Gospel worker, theological college student or an MTS Apprentice

People Worth Watching (Reliable People)

– a godly man or woman who is a potential MTS Apprentice.
Entrusters play a vital role in furthering the growth of the Kingdom by entrusting the gospel to the next generation of Christian ministry workers. 
MTS Director Ben Pfahlert says, "We'd love all MTS Apprentices, as their God-given gifts allow, to become MTS Entrusters."
The wisdom of MTS Entrusters
Rob Copland works for AFES at the University of Wollongong and is Uni Bible Group's Campus Director. Having trained two apprentices, Seth Fellows and Luke Murray, who are now training apprentices themselves, he has recently become an MTS Entruster. 
At the MTS Graduation where Rob was presented with his gold baton (the celebration of someone becoming an Entruster), he shared some of his wisdom. 
Rob says, "We need to keep learning the gospel. You must keep learning it from the Bible and from the Gospels. You never stop and should never stop learning how the Lordship of Jesus is the rule over all nations and all people through his death and resurrection. That is the thing that we need to keep coming back to and learning afresh from the Gospels and it's that simple but also that constant".
Another Entruster who recently shared some wisdom from their time as a trainer is Col Marshall. Col is one of the co-founders of MTS and is considered somewhat as a 'great grandfather' of MTS when it comes to the Entrusting Family Tree. 
At Engadine & Heathcote Anglican Church, there are four generations in Col's Entruster Family Tree. 
Col Marshall trained James Warren (Currently Senior Minister)

James Warren trained Michael Dodd (Currently Assistant Minister)

Michael Dodd is training Tim Griffiths (Currently 2nd-Year Apprentice)
Col shares his thoughts on training for Gospel ministry, "Be really strong in the word of God, because that's how God gets at you, communicates with you and takes hold of you by his grace. So stay really strong in the word. Try every year to increase your learning of the word of God and your learning of theology through a whole lifetime. We hope MTS helps to set you up in this".
Learn more about MTS Entrusters here.