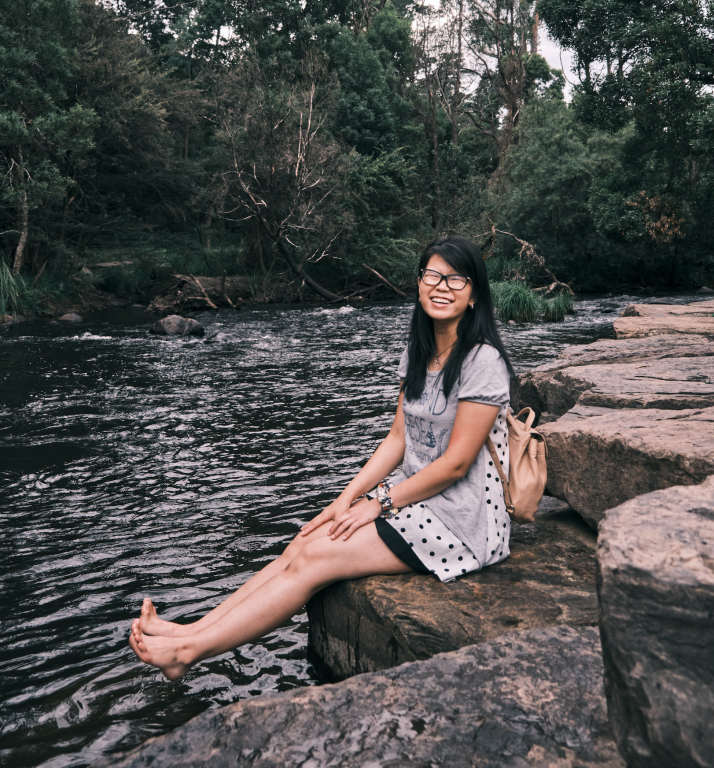 When Stefanie Wong, MTS apprentice at Holy Trinity Anglican Church, Doncaster, decided to study at Ridley College, she hadn't been a Christian for very long – but she was determined to know Jesus.
With a Catholic background, Stef had always known that God existed; but she knew little about the gospel.
It was when she experienced a time of personal difficulty and disruption, away from Christian encouragement, that Stef discovered just how much she wanted Jesus in her life. She says: "My life crumbled and I was really taught by God that what it means to have nothing, what it means to be doing things without him".
When her brother took her to church, she was ready to hear the message of Jesus' love. "It didn't take me long to say, 'Yes, I believe in Christ.'"
Craving knowledge of Jesus
Her new faith took Stef on a quest to find out everything she could about Jesus. She says she was "desperate to know Jesus more" and really wanted to understand what his word meant for her. Within only a few years, frustrated at not being able to find the deep teaching and mentoring that she craved, she decided to study at Ridley College, at first attending night classes part-time.
It turned out to be good timing. At the church she was serving in, she started to see the destabilising and confusing impact of the same-sex marriage debate on the congregation, and was even more convicted of just how important it is to have solid theological foundations. "If we are to be teachers of the Bible," says Stef, "we've got to know it really well."
Studying at Ridley gave her those foundations and the teaching about Jesus she had craved; but she realised that theological study on its own wasn't giving her the skills she really needed.
When the whole situation with my old church happened, I tried a lot of things to fix it or to improve things. It came to a stage where I realised that I was not equipped. I just did not have the skills to lead well and I was really struggling.
So when it was time to move on and find a new church, Stef looked for one that was established and experienced in training, and willing to train her – and that's how her apprenticeship came about.
It was a big decision to leave her work as a physiotherapist after years of training, and undertake a two-year full-time ministry apprenticeship. She enjoyed her work as a physio and was good at it. But her job actually helped her make the decision: "What I realised I was really good at was the pastoral side of it and mentoring people … things that I could use better in ministry."
Opportunities for leadership and teaching
Pastorally caring for and mentoring people is a big part of Stef's work at Holy Trinity, with a particular focus on ministry to women. She has started a new women's ministry this year as part of her apprenticeship.
It's still very new. We have a committed team of women who help to run it and we run events every second month, and we make sure that the word of God is preached faithfully at those events.
The ministry seeks to foster fellowship between women and encourages them to be reading the Bible one-on-one with each other, allowing the word of God to be the centre of their relationships.
It also allows women to see other women teaching God's word, something that Stef loves to encourage: "It is always important for women to see role models of other women teaching … so that women can see that the word of God is not just for men."
She thinks it's important to remember that it's not just men who can think theologically.
Women can too. It is good to have role models of women teaching … [and to] foster relationships amongst women and push them to really see the word of God as the most important thing in our relationships.
Why is it important for women to go into ministry?
Stef thinks it's great when men and women work together in ministry.
"I think women in a staff team can bring a different perspective on things … and you want a women's worker or a [female] staff member to look after the women of the congregation as well…" Especially, Stef says, it's important to equip each woman and encourage her to "consider ministry as a potential pathway", just as male ministers disciple male church members in this way.
God designed us as men and women where we can work well together and strengthen the way the church can serve its members by working alongside each other.
Considering apprenticeship or study?
Stef has some good advice for other young women who may be considering ministry apprenticeships or theological study. She encourages them not to "close the doors".
Don't say that you're not good enough for it. Don't say that you are not smart enough or you're not given what it takes to serve before you even try. Give it a try … and hear what your pastors and wise counsellors say about how you minister to people … Don't decide it for yourself; ask God if it's really the right thing for you.
Stef's passion to know the Bible and Jesus deeply was what opened the door to faith and ministry for her, and the door has stayed open for her to commence her apprenticeship journey. Armed with passion, knowledge and her growing skills in leadership, she's keen to share what she has gained and open that door for other women too.