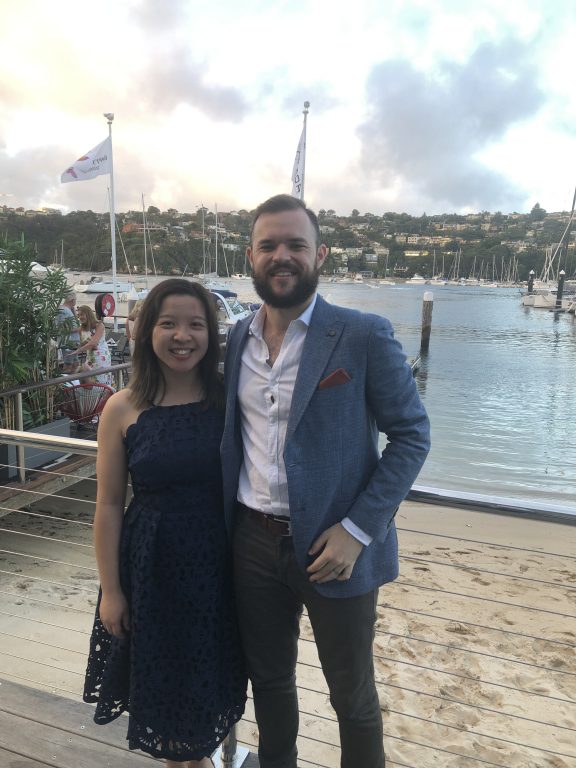 by Vanesia To (Communications Cadet)
Hamish Sullivan is passionate about mission and believes in raising up leaders from all nations. But how is his church in Southwest Sydney overcoming language barriers and cultural differences in order to lead others to Jesus?
A new interest
A few years ago, Hamish was studying to become a nurse. He knew he wanted to do ministry at some point, but he'd never thought of doing a ministry apprenticeship. It wasn't until an MTS apprentice at Sydney Uni invited him along to an Evangelical Union (EU) 'Howie' event that he heard about what ministry apprenticeships have to offer. To Hamish, this sounded like a great opportunity to start a new phase of his life: a "clean slate, doing all these practical things, but also deepening your knowledge of God."
Hamish was thinking about starting his apprenticeship with the EU, but at the same time, a Cumberland campus staff worker suggested that Hamish and his wife check out Chester Hill Anglican – a re-plant church which Hamish soon came to believe "was the place we needed to be, to be trained up as disciples of Jesus and especially early in our marriage". And after joining the church and having a conversation with a pastor there, Hamish made the decision to start an MTS apprenticeship at Chester Hill Anglican.
A multicultural network
Being involved with Chester Hill Anglican was a new beginning for both Hamish and his wife. Having come from a fairly monocultural church near Manly, moving to multicultural Southwest Sydney was quite a change. However, Hamish had long had a heart for raising up disciples from all nations, so he embraced this change and threw himself into Chester Hill Anglican's vision for connecting different people to Jesus.
So why is Chester Hill Anglican a great place for Hamish to do this work? Well, for one thing, it's been a place where innovation has been not only possible, but necessary in order to make disciples. It started off as a typical Sydney Anglican Diocese church, but Hamish and the team have recently felt that they weren't fulfilling their mission of communicating God's Word in an accessible way in order to raise up disciples from all nations. So in the context of COVID-19 and in an effort to cater to the diverse local community, they recently launched the Small Church Network – a series of weekly smaller gatherings in homes, parks and church buildings to study the Bible.
Hamish is now busy running a range of events and services: Friday afternoon Kids' Club, Youth Group, Playgroup, weekly Bible studies and monthly Small Church gatherings.
Opportunities to evangelise 
The Small Church Network has created flexible opportunities for evangelism, and Hamish has thrown himself into these opportunities. One recent Easter event that was a part of the Small Church Network was an international dinner, which provided the opportunity to share the Easter message, whilst building relationships with people from different cultures.
Leading up to major events like this, Hamish has also had the opportunity to do doorknocking as a way of proclaiming the Gospel message. Walk-up evangelism has not come naturally to him. However, his time at Chester Hill has allowed him to grow more confident in communicating the good news about Jesus.
Hamish remembers a time when he was doorknocking for a Christmas event and had the opportunity to have an hour-long conversation with a Muslim guy about his faith. Just by starting with a simple question, "What do you think about Christmas?", Hamish was able to have such a positive conversation that, by the end, the guy wanted to read the Bible with him.
And the conversations have not ended there. As Hamish continues to assist with Kids' Club, he has started to hear more questions about Jesus. One example was when a kid from a Buddhist background said, "I know more about Jesus than I know about Buddhism. I know more about Jesus and I actually believe in that, but I'm not there yet."
Hamish's MTS work has made these exciting opportunities to share Jesus with people possible. His time at Chester Hill Anglican so far has made him view evangelism as a both a relationship-building exercise and a chance for others to know Jesus better.
Igniting a passion for mission 
So where did Hamish's passion for mission come from? It started late in high school when he was participating in social justice events. As he got older, Hamish was increasingly convicted about the social justice side of mission.
At that time, Hamish thought he could fulfil his desire to show Christian love through social justice endeavours as a nurse. But as he continued to grow, he came to realise that there were restrictions on teaching the Gospel through nursing.
And while he had always been drawn to the idea of overseas mission, Hamish's view on this began to shift when he noticed that "there is a great need for social justice ministry here [in Australia] as well."
While he and his wife are still open to overseas mission in the future and continue to be connected to various prayer newsletters and organisations like Open Doors, Hamish believes that the next step for him will be formal theological training at Bible college.
Building up disciples from ALL nations 
Mission doesn't necessarily have to be overseas. Hamish says that you can actually do 'overseas' mission in Australia as well.
Hamish's advice? Start with local mission.
"Maybe join a new church in Southwest Sydney, think about your own church's involvement with mission, support a lot of missionaries, and reach out to people from different cultures or socioeconomic groups, because they're the kind of people that want to hear more about Jesus as Jesus provides that ultimate hope."
Of course, another idea is to take the next step with MTS by doing a cross-cultural MTS apprenticeship at a multicultural church, like Hamish.
As Hamish keeps working with the community at Chester Hill, he and his wife continue to appreciate the opportunities that MTS offers. He says: "I think we are growing to understand how to do lifelong service and ministry, no matter where we are."