By Communications Cadet Vanesia To
After becoming a Christian at the University of Newcastle, Tasmanian-born Elsie Anderson wondered what it would look like to serve Jesus for the rest of her life. Once she graduated, she worked briefly as a speech pathologist; but realised how eager she was to talk about Jesus with her workmates.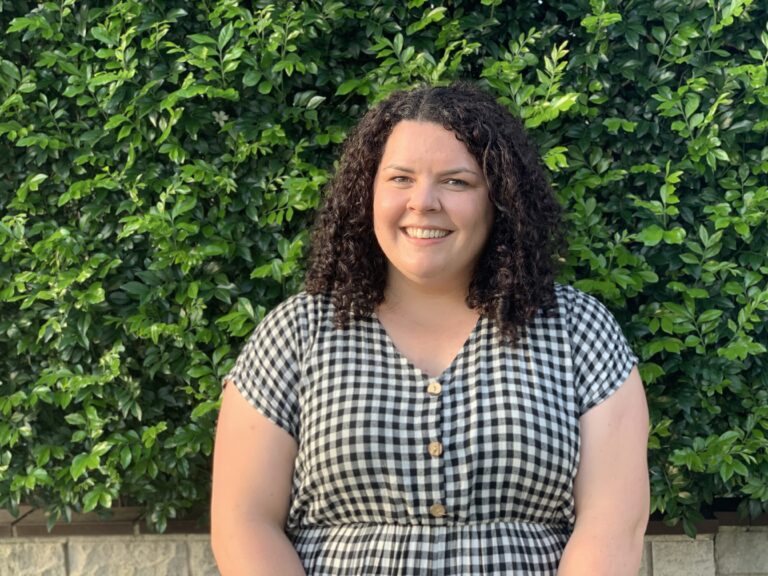 "As I grew in my understanding of the Bible, and my love for Jesus, I grew in doing different ministries, and gaining some skills. It got to the point where I was working, and I had to see clients, but I'd rather keep talking to my workmates about Jesus. So work crowded out what was the main game."
Elsie had to decide what she wanted to do more – ministry or speech pathology?
Elsie realised she wanted to give ministry a go, and that's how she found herself doing MTS, after being encouraged by friends and mentors at Hunter Bible Church that an apprenticeship would be a great option to try ministry and be trained in a valuable way.
Thriving in frontline ministry
During her MTS apprenticeship, Elsie met with women to read the Bible; lead growth groups and help train leaders to do the same.
Her trainer, Jenny Jefferys, was particularly helpful in guiding Elsie and pointing out her blind spots. She helped Elise identify helpful and harmful patterns in the way she did ministry and how she acted in the team.
"I loved having a trainer and being part of a team. Doing an apprenticeship was really great, because you weren't there by yourself, making decisions but it was someone's job to watch you do things, and watch how you did ministry, how you acted in the team, who you were," she says.
Elsie recalls a number of occasions when Jenny would point out ways she was acting in ministry and relating to the rest of the team that she wasn't even aware of – and this awareness helped her alter unhelpful patterns and grow as a leader and team members.
Doing MTS also helped Elsie to begin learning how to apply biblical principles pastorally as she gained experience meeting with real-life people, reading God's word with them and caring for them – though she did experience some frustration as she encountered gaps in her knowledge.
Elsie grew in her character during her apprenticeship. "If I hadn't known those big character things and just went to college," says Elsie, "I reckon that would've been disastrous."
Dealing with the grey areas
While Elsie loved her apprenticeship, there were hurdles that came with ministry work.
Moving from speech pathology where things were very black and white, Elsie was challenged to live in an unfamiliar greyness when she decided to pursue ministry. She reflects, "There was a hardness in knowing whether you're doing things right." Progress was much easier to define and measure when treating patients!
So, how did she navigate through these difficulties? One thing she believes that eased her worries was to converse with other apprentices who were feeling the same way. Hunter Bible Church has a thriving MTS program so Elsie had a built-in support network. She also valued the opportunity to connect with other apprentices at MTS conferences.
Another source she turned to for reassurance was her confidence that it's God that does the work.
"I think I tried hard to trust in God's goodness, so even if I'm doing it wrong, actually God is in control, so trust in His sovereignty and His goodness," she says.
The next step
Many apprentices start their training with a strong sense of what will come next – many have already made fairly firm plans to head to Bible college. But given her self-described "spontaneous" personality, Elsie hadn't thought much about where she would end up after her apprenticeship.
Fortunately, Jenny, her MTS trainer, regularly discussed the possibility of studying at Bible college.
Elsie considered this path, as from her experience doing an MTS apprenticeship, she knew she enjoyed ministry and that ministry life was a good fit for her. Sitting at the kitchen table at her trainer's house, she had to answer the question: "So are you going to go to college, or are you going to go back to work?"
Despite never thinking that she would be the person that would end up going to college, with Jenny's encouragement, Elsie made a pro-con list. She found that if she wanted to continue into ministry, there were many great reasons to pursue formal theological education. And so she decided to enrol at Moore College, starting there in 2017.
Elsie ended up loving college, particularly for how taught her how to think theologically. She reflects:
"I knew lots about the Bible before going to college… lots of people know lots about the Bible and they don't go to college… but I think what college really did was formative in the way that I thought. So when issues come up I'm able to think about them theologically, ask the questions, think about how does the Bible speak into this, how do different doctrines speak into this? But also, I think, as I'm reading the Bible, maybe with someone, or by myself, or I'm preparing to teach it somewhere, college equipped me to ask the right questions of the passage."
Elsie believes that an MTS apprenticeship enabled her to approach her studies with real-life experience and pastoral examples to keep in mind.
"Doing MTS, doing an apprenticeship, meant that I knew what I didn't know," Elsie says. There were often moments at college where I'd be learning something, I'd be sitting in a lecture, and the lecturer would say something deeply profound, and I'd be like, "I wish I knew that two years ago so I could have spoken to X about it."
This gave Elsie a great excitement about future ministry opportunities, and how she could use her newfound deeper understanding of the Bible to minister to others. Like many apprentices, Elsie valued the fact that she had a clearer concept of what life on the other side of college would look like, and that motivated her to persevere even through the challenges of exams and assignments.
"Having done an apprenticeship kept me persevering because I knew what ministry life would be like, and I knew that I loved to read the Bible with women," she reflects. She was so keen to get back into full-time ministry, but knew that going via college would leave her far better equipped for the tasks ahead.
Ministry back in Tassie
Post Moore College, Elsie is now back in Tasmania doing evangelism and discipleship at the University of Tasmania. She is also closer to her non-Christian family.
Elsie is working on campus with the Subbies ministry, engaging with international students from countries like India and Nepal and training Christian leaders to spread the Gospel.
Elsie asks for prayer that post-COVID, more people from the subcontinent would come and study in Hobart and become mission-minded Christians; and that the leaders would be keen to share the Gospel with their friends as they continue to be trained.
"I would love to see many women be trained up for ministry in Tassie," Elsie says.
As Elsie continues to share Jesus with students in Tasmania, she reflects upon the value of her apprenticeship: "I reckon doing an apprenticeship helps you to understand yourself in a way that's hard to do somewhere else. So I would definitely recommend it."