By Emma Cummings, MTS Events Administrator
We've all felt it. This thing everyone calls 'Zoom Fatigue', or its not so nice older brother, 'Zoom Burnout'. The effects of the COVID-19 pandemic, and its accompanying restrictions and lockdowns, have often led to one of two outcomes for our cherished time in fellowship together; cancellation or straight to Zoom. We may see this in our regular Sunday church services, work, studies, social gatherings and other previously scheduled in-person events.
But can Zoom really replace human connection and interaction? 
Simply put, no, it cannot. But that does NOT mean that we avoid it, it just means we need to adapt to it.
There is no denying that simply putting everything online in the same way as it is conducted in-person, is not an effective way to view and engage with online content. But what is the solution then? Research from MURAL suggests that "[online] workshops work best when they meet participants where they are, then guide them through a sequence of activities that comes to a clear conclusion with actions." Well, at MTS Recruit that is exactly what we will be doing.
What we've done to make this online conference good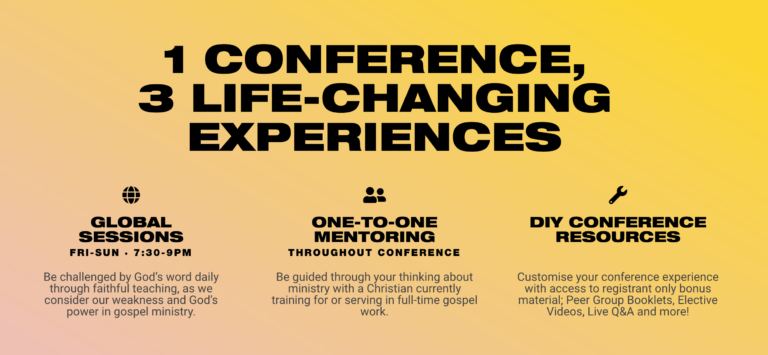 At MTS Recruit, we have three different ways for delegates to interact with us and each other as you consider your next steps in ministry – Global Sessions, One-to-One Mentoring, and DIY Conference Resources. These three elements, as described in the image, are structured in a way that allows for flexibility in content and delivery as we think through our weakness and God's power in gospel ministry. 
What attendees can do to make this online conference even better
We hope that what we have designed will allow a Zoom-weary audience to engage well with the conference… but we also want to urge attendees to be proactive and do all they can to ensure their experience of MTS Recruit is as good as possible!
That's why we've developed these tips to help attendees engage well with the conference. You may find some of these helpful if you're attending other online conferences as well during this pandemic season!
Check-in with those around you who are considering gospel ministry and ask if they have

registered

for MTS Recruit.

Create a group chat with people at your church or in your local area who have registered for MTS Recruit, to chat with in the lead up to, during and post-conference. If you would like assistance in connecting with people around you, please do not hesitate to contact us at

[email protected]

.

Ask the members of your group to share what stage they are up to in ministry thinking. For example…

Haven't really considered full-time ministry

Have considered full-time ministry but have no definite plans

Will pursue full-time ministry, but likely not in the next year

Planning to do a Ministry Apprenticeship in 2022

If online, schedule online watch parties (through Zoom or similar platforms) for each of the Global Sessions.

Try and keep the same link/Meeting ID throughout the conference to avoid confusion among your group.

Access Peer Group Strand Booklets from September 17th on your online

Conference Page

to further discuss the content, as well as challenge and encourage each other to consider your next steps in ministry thinking.

Utilise Breakout Rooms to divide into smaller groups if you have a large watch party OR to divide between conference attendees at different stages of ministry thinking.

If you can meet in person, organise where you can meet to watch the Global Sessions together.

Consider joining in fellowship by eating meals together, either before or after the Global Sessions.

Pre-determine if you can organise groups to meet in-person according to their stage of ministry thinking. 

Get creative! Whether online or in-person, enjoy your time in fellowship together. For example, ice breaker conversation starters, Kahoot, cooking together, Scattergories (MTS Head Office recommended!) and more.
This list is by no means exhaustive, but is a great starting point to help yourself, and those around you, engage and get the most out of MTS Recruit as we join together to consider our next steps in gospel ministry. For a printable version of these suggestions, click here. 
We have a few more secondary elements to our program in the LIVE Q & A on Sunday afternoon (which attendees can submit questions to, up until midday on Sunday), Electives (which can be accessed on your Conference Page), Individual Quiet Time (which there is space for on pages 16-17 of your Booklet), and possibly the most important part of the conference, Mentoring.
All attendees who register before midnight, Sunday 26th of September will be guaranteed a mentoring discussion over the weekend of MTS Recruit (Oct 2-3). Attendees who register after the 26th of September, and before registration closes on the 29th of September, will be guaranteed a mentoring discussion in the month of October post-MTS Recruit. Your Mentor will be someone who is either training for or serving in Gospel Ministry, and has been trained to help you intentionally think about your next steps in ministry. If you're in a locked down area, try and see if you can meet up with them for a physically distanced walk if possible!
We can't wait to see you back in person over a coffee and an open Bible, but for now, we have the next best thing. Join us online for MTS Recruit October 1 – 3, and be challenged to seriously consider how you might serve Jesus with your whole life.
And if you won't be coming to the Conference, please do pray for us. Please pray especially that attendees under lockdown would make the most of the weekend and seek to engage well in the elements of MTS Recruit.
MTS Recruit registration closes midnight, September 29th.