G8 2015 Roundup
For MTS apprentices, it can feel like you spend your life at conference after conference. There are youth camps aplenty, beach missions and events for training younger leaders filling the calendar. Yet the overwhelming response from attendees at G8 National Conference was that taking the time out to be at this conference was well worth their while.
Apprentices hearing from Duane around the campfireHaving wrapped just a month ago, G8 offered up a host of avenues, such as talks from Duane Olivier on Jonah, in which apprentices could be challenged in their approach to ministry. As they took three days out from their usual routine, apprentices were enabled to reflect on what they have experienced of MTS so far through discussions with ministry peers, and listen to the reflections of seasoned ministry trainers.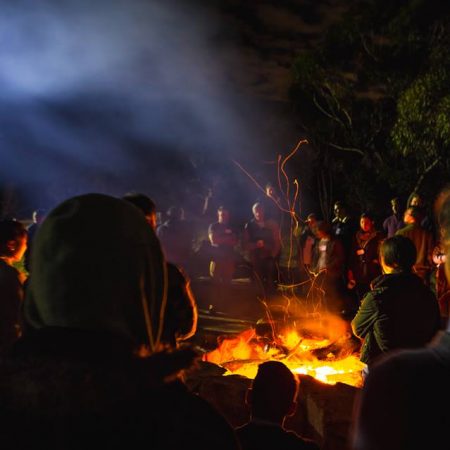 All-in session with a talk from Jonah
Duane's preaching left a mark on the hearts and minds of the apprentices of 2015, finding themselves challenged about what they love most – is it comfort, or the lost? These challenges were built upon with practical insights into ministry through daily workshops. First year apprentices spent a few hours of each day with Tony Payne. Together they grappled with the principles of The Trellis and the Vine and how these play out in practical ministry settings.
"This helped me to think about being more intentional in ministry, that we ought to do everything for the sake of the vine work of making disciples." 
Ben Pfahlert met with the second year apprentices each day, taking them through the Passing the Baton workshop (with many a tangent along the way!).
"These sessions were helpful in thinking through the future and how I'm going to pass on what I have learnt. It gave me solid ideas to put into practice."
A highlight of G8 is the time apprentices spend in their network groups. G8 is all about gathering ministry peers to be taught, trained and challenged, all of which comes about organically as apprentices meet and chat through their experiences.
"Sharing the struggles and joys is such a helpful thing. It's the first time I've felt 'normal' for all the emotions I've felt in the first 5 months of MTS!"
A first for G8 in 2015 was the inclusion of the Train the Trainer course. A group of trainers joined us at Stanwell Tops on the first two days of G8, working through the Train the Trainer course with Geoff Lin, Director of MAP (Ministry Apprenticeship Program) in South Australia. The role of MTS trainers in the raising up of Australia's next generation of gospel workers can't be overstated, so being able to invest so deeply in training these key players was a great development in the movement.
Train the Trainer Course in action
Please join us in thanking God for the good he worked through G8 2015, and pray for the planning of next year's conference, already well under way!