James Deaton works as a prison chaplain in NSW, Australia, ministering to men in prison who have many different stories. His story is one of God revealing himself, leading him and shaping him. 
The impact of MTS 
As a teenager, James thought he was a Christian, but he didn't yet know Jesus as his Lord and Saviour. He attended church a few times a year and went to chapel at school, but it wasn't until University that James began to enco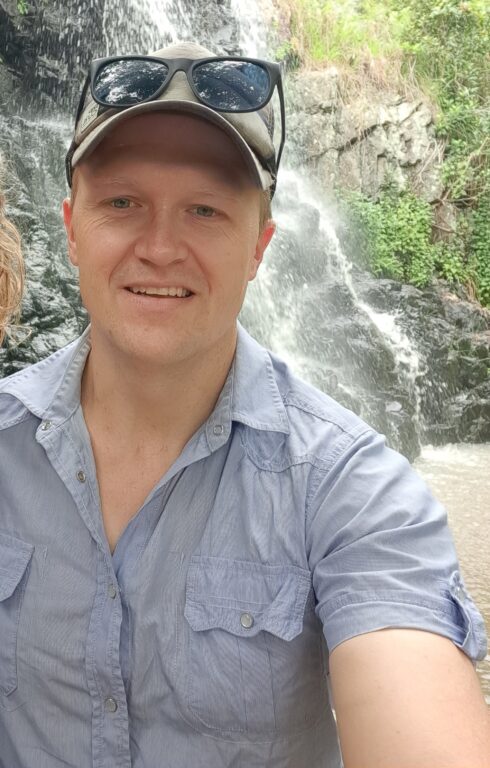 unter Jesus personally. 
He shares, "I left school and went to Newcastle University where I studied construction management and lived on campus for four years. And on campus, there were a couple of guys that totally lived a different life to me. They had a peace and they had a joy that I didn't have and I was really attracted to that." 
One of his friends, Jenson, persuaded James to meet up with another guy, Dave, from his church Hunter Bible Church. Dave took James through Two Ways to Live once a week over six weeks 
James says, "I thought this was a course that just kept on going, but on the sixth box, you've actually got to make a decision. So I've heard the gospel, I understood it, and I believed it to be true. And Dave really put the hard word on me. He said, 'James, look, you know, this is the gospel. You've gotta make a decision. And that's when I became a Christian.' He led me through a prayer and I'm just so thankful for him." 
James became a Christian and started to attend Hunter Bible Church (HBC) with Jenson, Dave and his other Christian friends. After he had been at HBC for a couple of years, minister Greg Lee invited James to Challenge Conference (now MTS Recruit). After attending a few times James was particularly convicted by something Philip Jensen said. He reflects, "Philip Jensen said, 'Do you have a reason not to do full-time ministry?' And I couldn't find a reason not to do full-time ministry. So I had my interview with Sam Hilton, who worked at Hunter Bible Church, and I was locked in to do MTS the following year."
James did MTS with Sam Hilton as his trainer and was involved in youth ministry, Life courses, Sunday services and teaching scripture. For James, scripture teaching was one of the more challenging experiences of his apprenticeship. 
He shares, "I just did not know what I was doing. It was so hard. I remember speaking to Sam in my second year of MTS, and I said, 'Sam, man, I can't do this anymore. And so I got Sam to come in and help me.'" 
Although it came with challenges, James looks back on MTS as an amazing experience. He says, "I absolutely loved MTS. It was dipping my toes into full-time ministry. Having that experience of what does it look like on my character, conviction, and competence as a minister of the gospel?"
The next logical step for James after MTS was to go to Bible College, so he went to Sydney Missionary and Bible College (SMBC). James and his wife studied at SMBC with the mind to go into aboriginal ministry with Church Missionary Society (CMS), but God had other plans.
The path to prison chaplaincy
After applying to work with CMS and being told to wait a few years, James and his wife had to consider their path forward. He shares, "It was tough because it was the end of our study. And we had to move out of our college accommodation. My wife was heavily pregnant with our first child, Jonathan. And I didn't know what we were gonna do next year."
The unknown of their next steps helped James to dream big, and God turned his mind to prison chaplaincy. He contacted someone he had met through SMBC who worked at Crossroads Prison Ministry and found a volunteer chaplaincy position he could move into. God was opening up opportunities for James, but the next question was how would he be funded for volunteer work. 
James shares, "I thought, okay, I'm gonna ask my mates, my Christian mates, 'Can you financially support me for two years?' And I was blown away." 
First, he started small with his close group and was so encouraged by the response that he enlarged the circle and started asking other people within their local church. James says, "I think after six months, I had funding to become a full-time volunteer prison chaplain. What a blessing and what a joy, because it was really a time of God was saying, 'James, take your hands off the wheels. Trust me, I will provide for you'."
James worked as a volunteer chaplain at Long Bay Correctional Centre, and then at Silverwater Correctional Centre. After a few years, a job came up at Kempsey Correctional Centre with BaptistCare, although he initially felt a little reluctant to consider leaving Silverwater, James was encouraged to apply and was successful in getting the job. 
Ministering to inmates and prison staff
Now James has been ministering as a chaplain at Kempsey for almost eight years and loves the work God has given him to do. His role as a chaplain involves many different duties to both staff and inmates, including weekly chapel services, one-to-one bible reading and prayer and services like Anzac Day or Remembrance Day. 
James says, "In the area that I'm in, I'm in charge of sector four. There are eight pods of 50 men each. Now, I can't service all of them. So we'll have chapel, usually going through the gospels and discovering who Jesus is and what he has to do with their lives."
The time he does get to spend one-to-one with inmates is a joy for James. He shares, "I love one-to-ones reading the Bible with inmates. I was taught that in MTS and it was modelled to me as a Christian. That's where it's at – people engaging with the word of God."
Although it wasn't initially his plan, James has since seen how God has been leading him to prison chaplaincy throughout his life. He reflects, "When I was 16 my favourite movie was Shawshank Redemption. I wasn't a Christian at the time, but I was drawn to it. When I became a Christian at 21 years old I realised the Gospel meets all these needs – forgiveness and hope and redemption and salvation." Throughout his life, James can see how God has been teaching and prompting him to lead him to this ministry now. 
James shares, "Early on I struggled to understand what God was doing in gaol. I saw a lot of grief and loss, and that was really, really hard to see and understand. But over time, I could see that God was bringing people to their knees, that they would consider the gospel. He strips away the distractions of life that they would come and have the time to engage in God's word."