As the year draws to a close, we are sad to be saying good bye to two members of the MTS team.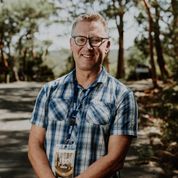 Eric Thurston has already departed MTS, bound for a new role as Director of Year 13 at Youthworks. While we are sad to lose Eric as our Director of Training, we recognise that God has gifted him perfectly for this role, and are excited to see him used to train and raise up young people at Year 13.
We asked Eric a few questions about his time at MTS and his new role:
Why did you want to work at MTS?

I wanted to work for MTS because:
I believe in its mission to raise up workers for the harvest through ministry apprenticeships
I had done a ministry apprenticeship and under God's hand it was why I was in fulltime ministry
I had been running the Canadian equivalent of MTS (called Artizo) for 12 years so it was a great fit with my passion and experience.
What's been your highlight from your time working at MTS?
Seeing apprentices grow and make wise and Godly decisions about how they will serve Christ in their future, working with the MTS trainers and serving with all the staff and volunteers on our committees.
How have you seen God answer prayer during your time at MTS?
God has provided so generously in answer to our prayers: raising up awesome volunteers, new partnerships, great MTS staff, growth in apprentice and trainer numbers and financial and prayer support.
What do you hope God does through MTS in the next five years?
The Glorification of Christ in how MTS works and what it achieves.
Use MTS to work with Christian leaders to raise up many more training bases and trainers, as well as supporting and encouraging existing trainers
Use whatever gifts and experience we have to help international MTS movements.
Raise up thousands of workers for His Harvest.
Early next year, we will also say farewell to our Events Coordinator Angelica Katsolos. Angelica joined the team at MTS in July 2020, and we are delighted that she is leaving to do a ministry apprenticeship.
She explains: "I will be living and working in South-West Sydney. In a largely migrant community, I hope to share my life and faith with people of different ethnicities and religions, and learn a lot about how to be a 'globally minded citizen' just like my globally minded God. I'll also be getting married in April 2022 to my fiancé Sam, who is working as a full-time nurse but will be joining in on as much local ministry opportunities as possible."
We asked Angelica to answer the same questions as Eric. Here are her responses:
Why did you want to work at MTS?

I applied for MTS during a time where, because of COVID, I had just lost my previous job as an Events Coordinator at another Christian non-for-profit, so I was excited that there was a similar opportunity with a ministry that was all about raising up more workers for the harvest. I was also excited that MTS was keen to keep running and adapting their events during COVID, when most other ministries either completely stopped or pivoted poorly. It was an exciting role during a very uncertain time.
What's been your highlight from your time working at MTS?
 The last 18 months have been a bit of a wild ride with the longevity and uncertainty of COVID changing every single event we ran across 2020-2021. It meant there was a constant Plan A, B or E (in the case of MTS Recruit!) in the works, meaning we were constantly attempting to foresee what our events would look like in any given situation. Despite what could have been a very stressful and anxiety inducing time, I was always supported and aided by an amazing team of colleagues and volunteer committee members. They were always ready and willing to take on board extra work, sometimes at the very last minute (we had to completely restructure one event less than 24-hours before it started!), and it was always done with graciousness and peace. This truly has been an amazing team working for and resting in the glory of God.
How have you seen God answer prayer during your time at MTS?

When we first ran MTS Recruit in October 2020, we were completely unsure whether it would sink or swim… I think it jet skied! We had over 1200 people in 26 countries join us for a weekend that was all about considering how to serve Jesus with our whole lives. To think that there are over 1200 gospel-minded, Jesus loving, disciple-making Christians across the globe who are serious about making Jesus known, I'd say that's a pretty fantastic answer to prayer. May we never stop praying for more workers for the harvest.
What do you hope God does through MTS in the next five years?

I pray that God continues to defy our expectations. He proved that COVID cannot stop the raising of harvest workers, and so I pray that MTS would continue to take bold risks for the Kingdom, trusting a God who is Sovereign over all.